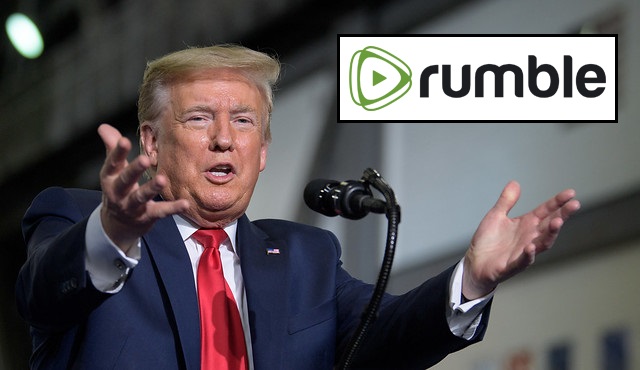 Gab CEO Andrew Torba revealed earlier this month that Donald Trump never joined Gab because Jared Kushner "specifically had problems with people [on the site] criticizing Jewish people, and Zionism, and policies related to Israel."

"I mean, that's specifically what I was told, is 'You have to do something about these people.'" Torba said during an interview with TruNews. "He called them Jew haters, I call them Jew criticizers."

Torba said his refusal to "sell out" and "compromise on Gab's free speech policies" was a deal-breaker for Kushner and Trump's handlers which kept him from joining the site.

"Some of these people believe that anyone who criticizes or even has remotely any sort of criticism towards Jewish people or towards Israel or towards international policy, is all of a sudden an anti-Semite right, which is totally absurd on its face," Torba continued.

"We're a content-neutral platform. It's a free speech platform," Torba said. "So as long as you're not saying anything illegal, as long as you're not making threats of violence, you're allowed to speak your mind and have an opinion about things."


On Saturday, the day Trump joined Rumble, the video hosting platform changed their terms of service to ban posts that are "anti-semitic" and "hateful."

Torba highlighted the policy change in a post on Gab: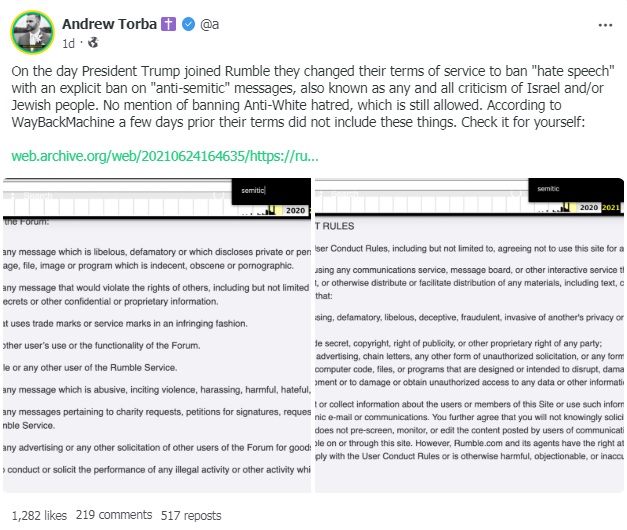 It looks like Torba wasn't exaggerating!

Though Trump never did anything as president to secure the free speech rights of his die-hard supporters, he did sign a blatantly unconstitutional executive order to undermine their free speech rights by banning criticism of Jews and Israel on college campuses.


In an interview with the Brooklyn-based ultra-Orthodox weekly Ami published two weeks ago, Trump lamented how little support he got from Jewish voters.


Trump said it "doesn't make sense" how Jewish voters rejected him en masse despite the "many" things he did for them.

"You know what really surprises me? I did the [Golan] Heights, I did Jerusalem and I did Iran - the Iran deal was a disaster, right? And I also did many other things," Trump said. "I believe we got 25 percent of the Jewish vote, and it doesn't make sense. Jewish people who live in the United States don't love Israel enough. Does that make sense to you?"

Trump got 22 percent of the Jewish vote whereas Biden got 76 percent, according to a survey from the American Jewish Committee (AJC).

Gab, which unlike Rumble and Parler has refused to cave to pressure from groups like the Anti-Defamation League (ADL) and the AJC, has been subject to unprecedented attacks in a bid to take the site offline.

The ADL in January pushed for the Justice Department to launch a criminal investigation into Gab and Torba in a blatant act of political intimidation and repression.


Gab revealed in March that they'd been banned from 4 different banks in just the past month.

A week ago, the American Jewish Committee wrote an article published in Newsweek calling for Gab to be shut down through the creation of "exceptions" to the First Amendment.

"There are two options for dealing with online platforms that promote hate -- and potential violence -- in our political system," said American Jewish Congress president Jack Rosen. "The first is to ban them. There are precedents in law where exceptions to the First Amendment regarding hate speech exist."

Rosen cited no legal precedent to "ban" "hate speech" as no such precedent exists (though they're working on it).



Nonetheless, private companies have instituted such "hate speech" bans on their own thanks to lobbying from groups like the AJC and the Anti-Defamation League.


In March, Texas Governor Greg Abbott -- while sitting in front of an Israeli flag -- labelled Gab an "anti-Semitic platform" and declared that it has "no place in Texas" while putting forward a bill to "fight anti-Semitism."


On June 16, Abbott signed HB 3257 into law to create the "Texas Holocaust, Genocide, And Antisemitism Advisory Commission" and adopt the extremely broad International Holocaust Remembrance Alliance's working definition of anti-Semitism.



From Texas.gov:

This commission will produce biennial studies of antisemitism in Texas, work with schools and institutions of higher educations to develop effective methods to combat antisemitism, and implement Holocaust and genocide courses of study and awareness programs.

The Governor was joined for the bill signing by Representatives Phil King, Craig Goldman, Tan Parker, and Doc Anderson, Consulate General of Israel Gilad Katz, and members of the Israel National Defense College, the Jewish Federation, and the American Jewish Committee.

"Antisemitism has no place in Texas, and we have a duty to combat it whenever and however it arises," said Governor Abbott. "That is why I am proud to sign House Bill 3257 into law, which will create the Texas Holocaust, Genocide, and Antisemitism Advisory Committee and bolster our efforts to eradicate antisemitism in the Lone Star State. Thank you to the Texas Legislature for your bipartisan effort on this important bill."
The IHRA's definition of anti-Semitism is completely antithetical to the First Amendment.

It defines anti-Semitism as:

- Making mendacious, dehumanizing, demonizing, or stereotypical allegations about Jews as such or the power of Jews as collective — such as, especially but not exclusively, the myth about a world Jewish conspiracy or of Jews controlling the media, economy, government or other societal institutions.

- Accusing Jews as a people of being responsible for real or imagined wrongdoing committed by a single Jewish person or group, or even for acts committed by non-Jews.

- Denying the fact, scope, mechanisms (e.g. gas chambers) or intentionality of the genocide of the Jewish people at the hands of National Socialist Germany and its supporters and accomplices during World War II (the Holocaust).

- Accusing the Jews as a people, or Israel as a state, of inventing or exaggerating the Holocaust.

- Accusing Jewish citizens of being more loyal to Israel, or to the alleged priorities of Jews worldwide, than to the interests of their own nations.

- Denying the Jewish people their right to self-determination, e.g., by claiming that the existence of a State of Israel is a racist endeavor.

- Applying double standards by requiring of it a behavior not expected or demanded of any other democratic nation.

- Using the symbols and images associated with classic antisemitism (e.g., claims of Jews killing Jesus or blood libel) to characterize Israel or Israelis.

- Drawing comparisons of contemporary Israeli policy to that of the Nazis.

- Holding Jews collectively responsible for actions of the state of Israel.
Is this now part of Rumble's new terms of service?

Follow InformationLiberation on Twitter, Facebook, Gab, Minds, Parler and Telegram.