Navy Unit Holds Mandatory 'Pride Hike' - Flies Rainbow Flag, Not U.S. Flag, 'In Honor Of Pride Month'
Chris Menahan
InformationLiberation
Jun. 30, 2021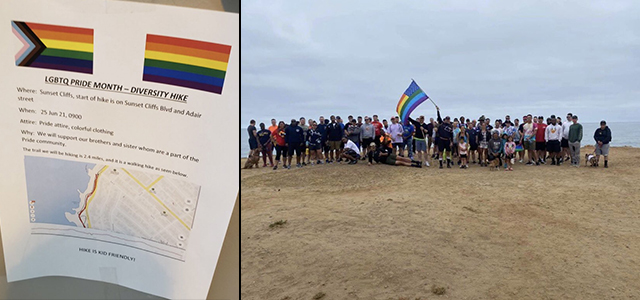 Active duty members of the Navy in San Diego were reportedly forced to take part in a "Pride Hike" on Friday "in honor of Pride Month" carrying a "rainbow American flag."


I wonder if this man will be ousted for "suspected extremism"?


"In honor of Pride Month, Construction Battalion Maintenance Unit 303 went on a Pride Hike at Sunset Cliff on June 25, 2021," the Navy unit out of San Diego said on Facebook.



The pictures contained no American flags -- only the new flag of the Globalist American Empire (GAE).

It appears as though in April male sailors in the same unit had to hold up these humiliating signs telling one another not to commit rape.



In addition to being forced to take part in Gay Pride Hikes, all active duty and veterans were recently offered free sex changes.




In related news, our new Biden-appointed Assistant Secretary for Health at the Department of Health and Human Services is a transgender "woman" by the name of "Rachel" Levine who is an advocate of sex changes for kids and the drugging of children with puberty blockers.



Biden's handlers tweeted out last week that protecting kids from child sex changes "is bullying."


This is what Democrats are talking about when they reference "our values."

Who are the "extremists," again?

UPDATE: The Navy group is now censoring their Facebook page to shield themselves from questions and criticism:


Follow InformationLiberation on Twitter, Facebook, Gab, Minds, Parler and Telegram.