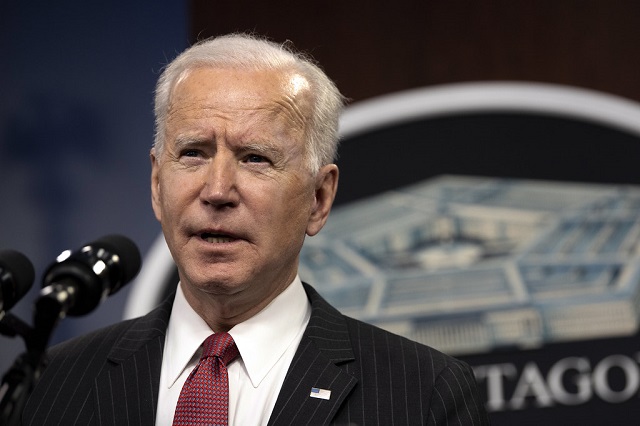 America has the right to "defend" itself by bombing alleged "Iran-backed militias" in Syria and Iraq, so said Pentagon spokesman John Kirby on Sunday.

From Glenn Greenwald, "Biden's Lawless Bombing of Iraq and Syria Only Serves the Weapons Industry Funding Both Parties":

For the second time in the five months since he was inaugurated, President Joe Biden on Sunday ordered a U.S. bombing raid on Syria, and for the first time, he also bombed Iraq. The rationale offered was the same as Biden's first air attack in February: the U.S., in the words of Pentagon spokesman John Kirby, "conducted defensive precision airstrikes against facilities used by Iran-backed militia groups in the Iraq-Syria border region." He added that "the United States acted pursuant to its right of self-defense."

Embedded in this formulaic Pentagon statement is so much propaganda and so many euphemisms that, by itself, it reveals the fraudulent nature of what was done. To begin with, how can U.S. airstrikes carried out in Iraq and Syria be "defensive" in nature? How can they be an act of "self-defense"? Nobody suggests that the targets of the bombing campaign have the intent or the capability to strike the U.S. "homeland" itself. Neither Syria nor Iraq is a U.S. colony or American property, nor does the U.S. have any legal right to be fighting wars in either country, rendering the claim that its airstrikes were "defensive" and an "act of self-defense" to be inherently deceitful.

The Pentagon's description of the people bombed by the U.S. -- "Iran-backed militias groups" -- is intended to obscure the reality. Biden did not bomb Iran or order Iranians to be bombed or killed. The targets of U.S. aggression were Iraqis in their own country, and Syrians in their own country. Only the U.S. war machine and its subservient media could possibly take seriously the Biden administration's claim that the bombs they dropped on people in their own countries were "defensive" in nature. Invocation of Iran has no purpose other than to stimulate the emotional opposition to the government of that country among many Americans in the hope that visceral dislike of Iranian leaders will override the rational faculties that would immediately recognize the deceit and illegality embedded in the Pentagon's arguments.

Beyond the propagandistic justification is the question of legality, though even to call it a question dignifies it beyond what it merits. There is no conceivable Congressional authorization -- none, zero -- to Biden's dropping of bombs in Syria. Obama's deployment of CIA operatives to Syria and years of the use of force to overthrow Syrian leader Bashar al-Assad never had any Congressional approval of any kind, nor did Trump's bombing of Assad's forces (urged by Hillary Clinton, who wanted more), nor does Biden's bombing campaign in Syria now. It was and is purely lawless, illegal. And the same is true of bombing Iraq. The 2002 Authorization to Use Military Force (AUMF) in Iraq, which the House just last week voted to repeal, has long since ceased to provide any legal justification for ongoing U.S. troop presence and bombing campaigns in that country.

In its statement justifying the bombing raids, Biden's Pentagon barely even bothered to pretend any of this is legal. It did not cite either the 2002 AUMF for Iraq or the 2001 AUMF authorizing the use of force against those responsible for 9/11 (a category which, manifestly, did not include Iran, Iraq or Syria). Instead, harkening back to the days of John Yoo and Dick Cheney, the Biden Defense Department claimed that "as a matter of international law, the United States acted pursuant to its right of self-defense," and casually asserted that "as a matter of domestic law, the President took this action pursuant to his Article II authority to protect U.S. personnel in Iraq."
"The United States acted pursuant to its right of self-defense" sounds awfully similar to the slogan, "Israel has the right to defend itself" and it's being used in the same ridiculous way.

Our two governments are now so joined at the hip it's becoming difficult to tell them apart.

According to reports, ISIS used Biden's airstrikes as cover to attack Iraq's power grid.

The Iraqi Ministry of Electricity announced on Sunday that the Salah Al-Din Power Station in the northern city of Samarra was targeted by Katyusha rockets, causing severe damage to parts of the generating unit, Anadolu Agency reported.

The attack comes less than a week after Prime Minister Mustafa Al-Kadhimi inaugurated the station, which produces about 1,260 megawatts of electricity with plans to serve areas north of Baghdad and Salah Al-Din provinces.

This is the first missile attack targeting an electrical power plant in Iraq.

Later on Sunday, Daesh claimed responsibility for the attack.
It appears the "return to normalcy" we were promised includes the US government allying with ISIS again to fight Syria and Iran.

Follow InformationLiberation on Twitter, Facebook, Gab, Minds, Parler and Telegram.