New York Times columnist Thomas Friedman said Wednesday that President Trump should not fight ISIS terrorists in Syria, instead he "should let ISIS be Assad's, Iran's, Hezbollah's and Russia's headache."

Thomas Friedman, in his column "Why Is Trump Fighting ISIS in Syria?," first suggested Trump arm the rebel terrorists fighting alongside ISIS so they can shoot down "Russian, Iranian, Hezbollah and Syrian helicopters and fighter jets and make them bleed":

We could dramatically increase our military aid to anti-Assad rebels, giving them sufficient anti-tank and antiaircraft missiles to threaten Russian, Iranian, Hezbollah and Syrian helicopters and fighter jets and make them bleed, maybe enough to want to open negotiations.
He then called for not fighting ISIS terrorists in Syria and letting them be Iran's, Russia's, Hezbollah's and Assad's "problem."

What else? We could simply back off fighting territorial ISIS in Syria and make it entirely a problem for Iran, Russia, Hezbollah and Assad. After all, they're the ones overextended in Syria, not us. Make them fight a two-front war — the moderate rebels on one side and ISIS on the other. If we defeat territorial ISIS in Syria now, we will only reduce the pressure on Assad, Iran, Russia and Hezbollah and enable them to devote all their resources to crushing the last moderate rebels in Idlib, not sharing power with them.

...Trump should want to defeat ISIS in Iraq. But in Syria? Not for free, not now. In Syria, Trump should let ISIS be Assad's, Iran's, Hezbollah's and Russia's headache — the same way we encouraged the mujahedeen fighters to bleed Russia in Afghanistan.
Friedman's words almost perfectly echo those of the powerful "Begin-Sadat Center for Strategic Studies" Israeli think tank, whose director Efraim Inbar said last year that ISIS "can be a useful tool in undermining" Iran, Hezbollah, Syria and Russia.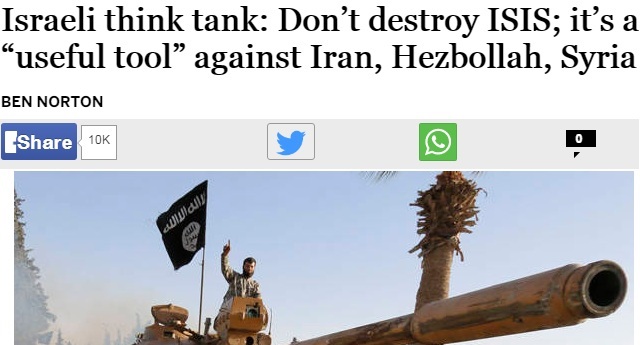 There are no "moderate rebels" to support as Friedman claims.

As Representative Tulsi Gabbard told CNN after her trip to Syria last year:

"I'll tell you what I heard from the Syrian people that I met with, Jake, walking down the street in Aleppo, in Damascus, hearing from them.

"They expressed happiness and joy at seeing an American walking through their streets. But they also asked why the U.S. and its allies are providing support and arms to terrorist groups like al-Nusra, al-Qaida or al-Sham, ISIS who are on the ground there, raping, kidnapping, torturing and killing the Syrian people.

"They asked me, why is the United States and its allies supporting these terrorist groups who are destroying Syria when it was al Qaida who attacked the United States on 9/11, not Syria. I didn't have an answer for them," Gabbard said.
"The reality is... every place that I went, every person that I spoke to, I asked this question to them, and without hesitation, they said, there are no moderate rebels. Who are these moderate rebels that people keep speaking of?

Regardless of the name of these groups, the strongest fighting force on the ground in Syria is al Nusra, or al Qaida and ISIS. That is a fact," Gabbard said.

"There is a number of different, other groups -- all of them essentially are fighting alongside, with, or under the command of the strongest group on the ground that's trying to overthrow Assad.

"The Syrian people recognize and they know that if President Assad is overthrown, then al Qaida -- or a group like al Qaida, that has been killing Christians, killing people simply because of their religion, or because they won't support their terror activities, they will take charge of all of Syria.

"This is the reality that the people of Syria are facing on the ground, and why they are pleading with us here in the United States to stop supporting these terrorist groups. Let the Syrian people themselves determine their future, not the United States, not some foreign country."
Friedman wrote similar in 2015 when he asked: "should we be arming ISIS?"

O.K., so we learn to live with Iran on the edge of a bomb, but shouldn't we at least bomb the Islamic State to smithereens and help destroy this head-chopping menace? Now I despise ISIS as much as anyone, but let me just toss out a different question: Should we be arming ISIS? Or let me ask that differently: Why are we, for the third time since 9/11, fighting a war on behalf of Iran?
The New York Times' top columnist openly supports using ISIS terrorists -- who massacre Christians and chop of peoples' heads in killings ten times more brutal than even the gassings in Syria -- as a tool of US-Israeli foreign policy, and yet there is no outrage and the media doesn't even give a sh*t.

Follow InformationLiberation on Twitter and Facebook.