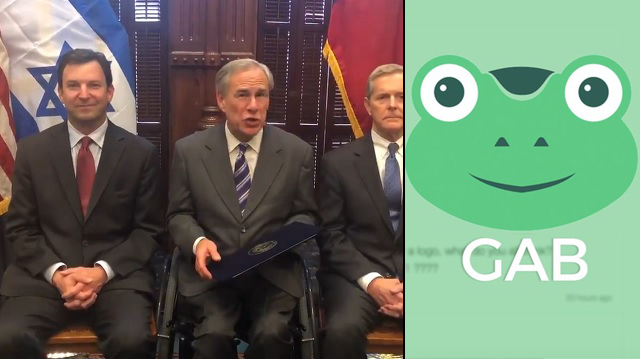 Texas Governor Greg Abbott on Wednesday night released a statement smearing the free speech social media site Gab as an "anti-Semitic platform" that has "no place in Texas" before endorsing a bill to "fight anti-Semitism."

WATCH:


From National File:

In the video, Abbott is seen sitting in his wheelchair while flanked by the American and Texan flags, with the Israeli flag taking a prominent role centered directly behind him.

"Anti-semitic platforms like Gab have no place in Texas, and certainly do not represent Texas values," Abbott said. The governor then displayed an unnamed piece of legislation created by Republican Texas representatives Phil King and Craig Goldman, which he proudly proclaims to fight "anti-semitism in Texas."
Gab fired back on Twitter:



The move came just days after Abbott claimed he supported making it illegal for social media sites to censor conservative speech.


In 2016, Abbott took a trip to Israel on pro-Israel GOP megadonor Sheldon Adelson's private jet to meet with Israeli Prime Minister Benjamin Netanyahu.

Later that year, Reps. Phil King and Craig Goldman took a trip to Israel and met with Knesset members to discuss "how to combat BDS," (the Boycott, Divestment, Sanctions movement).




Rep. King, who has taken multiple all-expense-paid trips to Israel over the years, then sponsored an anti-BDS bill which made its way through the Republican-controlled Texas legislature.

In 2017, Abbott signed King's anti-BDS bill into law.



After Hurricane Harvey struck later that year, Texans were told they had to sign what amounted to a loyalty pledge to Israel in order to receive relief funds.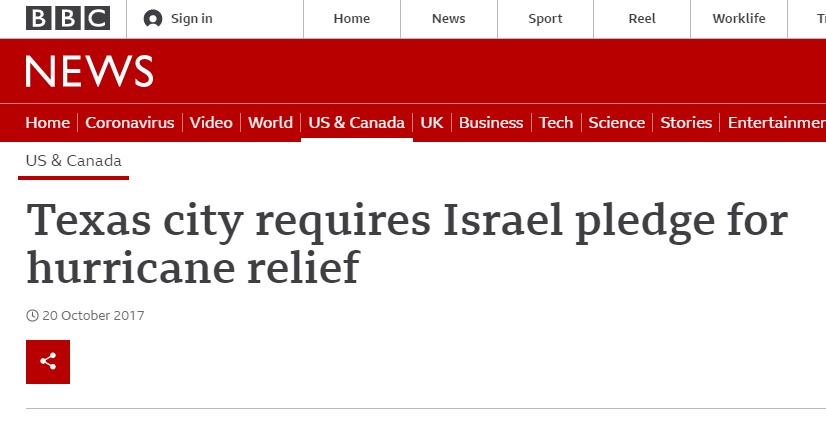 Government contractors, including elementary school teachers, were similarly told they had to sign a loyalty pledge to Israel or else they'd lose their jobs.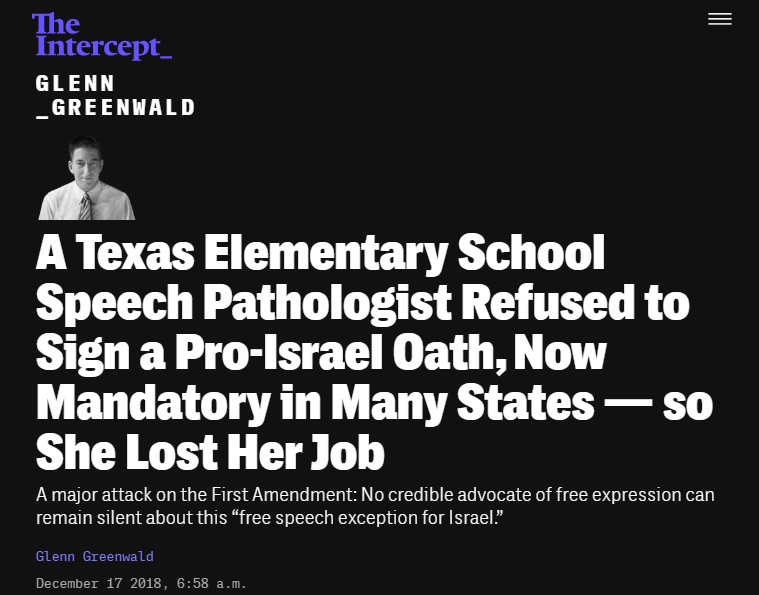 No similar law has been passed anywhere in America barring people from boycotting the United States.

The specific bill Abbott just endorsed is not yet clear but in January he said he's planning to adopt the International Holocaust Remembrance Alliance's working definition into state law during the next legislative session.

The IHRA's definition of anti-Semitism is completely antithetical to the First Amendment.

The definition defines anti-Semitism as:

- Making mendacious, dehumanizing, demonizing, or stereotypical allegations about Jews as such or the power of Jews as collective — such as, especially but not exclusively, the myth about a world Jewish conspiracy or of Jews controlling the media, economy, government or other societal institutions.

- Accusing Jews as a people of being responsible for real or imagined wrongdoing committed by a single Jewish person or group, or even for acts committed by non-Jews.

- Denying the fact, scope, mechanisms (e.g. gas chambers) or intentionality of the genocide of the Jewish people at the hands of National Socialist Germany and its supporters and accomplices during World War II (the Holocaust).

- Accusing the Jews as a people, or Israel as a state, of inventing or exaggerating the Holocaust.

- Accusing Jewish citizens of being more loyal to Israel, or to the alleged priorities of Jews worldwide, than to the interests of their own nations.

- Denying the Jewish people their right to self-determination, e.g., by claiming that the existence of a State of Israel is a racist endeavor.

- Applying double standards by requiring of it a behavior not expected or demanded of any other democratic nation.

- Using the symbols and images associated with classic antisemitism (e.g., claims of Jews killing Jesus or blood libel) to characterize Israel or Israelis.

- Drawing comparisons of contemporary Israeli policy to that of the Nazis.

- Holding Jews collectively responsible for actions of the state of Israel.
No other ethnic or religious group in America is afforded any such privileges.

As we've all seen, the American people are allowed to be denigrated relentlessly and blamed for all the evils of the entire world.

When they dare to stand up for themselves they get smeared by the media and sell-outs like Governor Abbott, banned from social media and blacklisted from the financial system!

To borrow a line the Governor himself said last week, "The United States of America was built on free speech and healthy debate, [Gov. Abbott and] Big Tech's efforts to silence American viewpoints is un-American, un-Texan and it is unacceptable!"

Follow InformationLiberation on Twitter, Facebook, Gab, Minds, Parler and Telegram.