Israel to Request Additional $1 Billion From U.S. Taxpayers For 'Emergency Military Aid'
Chris Menahan
InformationLiberation
Jun. 01, 2021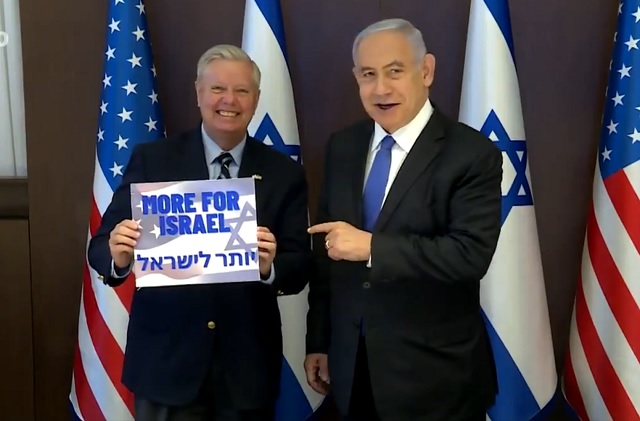 America only exists to do "More For Israel," according to our sold-out political class.

GOP senators Lindsey Graham, Ted Cruz and Bill Hagerty all spent Memorial Day visiting Israel to demand Americans give "More For Israel."

The $40 billion Congress just agreed to give them and the $735 million in precision-guided missiles the Biden regime has agreed to sell them isn't even close to enough.

Israel currently holds $61 billion in US treasuries which they purchased with our money and now lend back to us with interest. That number was $41 billion in just March 2020.





From Axios, "Israel to ask U.S. for $1 billion in emergency military aid":

Israel will ask the U.S. for $1 billion in additional emergency military aid this week, Sen. Lindsey Graham (R-S.C.) told "Fox and Friends" on Tuesday and Israeli officials confirmed.

Why it matters: Israeli officials say the aid is needed to replenish the Iron Dome aerial defense system and to purchase munitions for the Israeli air force — mainly precision-guided bombs. But several congressional Democrats have argued against providing additional weapons to Israel after at least 256 Palestinians were killed during last month's fighting in the Gaza Strip, mainly by Israeli airstrikes.

[...] Driving the news: Israeli Defense Minister Benny Gantz will arrive in Washington on Thursday for talks with Secretary of Defense Lloyd Austin and national security adviser Jake Sullivan, Gantz's office said. The aid request will be the focus of Gantz's visit, Israeli officials say.

[...] What he's saying: "There is going to be a request made by the Israelis to the Pentagon on Thursday for $1 billion in aid to replenish Iron Dome batteries. It will be a good investment for the American people. I will make sure in the Senate that they get the money," Graham told Fox a day after meeting Netanyahu and Gantz in Israel.
Murder was just effectively legalized in South Carolina and yet Lindsey Graham had nothing to even say about it.

Protecting Israel comes before protecting his own constituents.

Our bought-and-paid-for "leaders" are an absolute disgrace.


Follow InformationLiberation on Twitter, Facebook, Gab, Minds, Parler and Telegram.