Tucker: Govt Hiding 14K Hours Of 'Potentially Exculpatory' Jan 6 Footage From Defendants
Chris Menahan
InformationLiberation
Jun. 09, 2021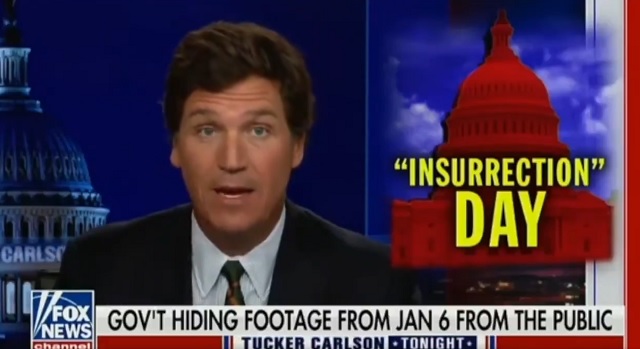 Tucker Carlson spoke with American Greatness' Julie Kelly on Tuesday night and highlighted how the government is hiding 14,000 hours of "potentially exculpatory" video evidence from Jan 6th defendants.

"I don't understand how you can prosecute someone for a crime and then withhold potentially exculpatory video," Carlson said.

"That's what they're doing," Kelly responded.

"That seems completely contrary to justice," Carlson said. "That's just shocking. And maybe a Republican office holder can wake up and note that, like now."

WATCH:


Kelly noted on Twitter how Republicans know Jan 6 protesters are being tortured, beaten, racially abused, locked in solitary confinement and held in indefinite detention but couldn't care less.



Trump himself gave a big speech on Saturday where he ignored their plight, though he spent plenty of time complaining about how he's being unjustly prosecuted.

He has still yet to say the name of Ashli Babbitt.

As I reported previously, Trump on Jan 7 condemned his own supporters and called for them to be prosecuted to "the fullest extent of the law" and did so just days after he chose to pardon "the king of medicare fraud" and release traitor Jonathan Pollard from parole to "make aliyah" in Israel.

Follow InformationLiberation on Twitter, Facebook, Gab, Minds, Parler and Telegram.