Is The Washington Free Beacon Spying On AOC Because She Criticized Israel?
Chris Menahan
InformationLiberation
May. 20, 2021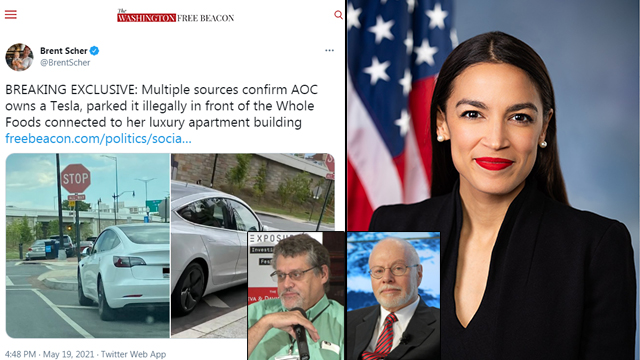 The Washington Free Beacon, a neocon outlet funded by pro-Israel billionaire Paul Singer that hired Fusion GPS to spy on Donald Trump in 2015, may now be spying on Alexandria Ocasio-Cortez because she dared to criticize Israel.

The Free Beacon on Wednesday released what ended up becoming a widely mocked article "exposing" AOC for allegedly parking her Tesla illegally outside a Whole Foods in Washington, DC.


"Sources inform the Washington Free Beacon that the socialist congresswoman's white Tesla was parked illegally outside the Whole Foods near her posh apartment complex in Washington, D.C." The Free Beacon reported, declining to reveal who took the photographs.

"Multiple sources told the Free Beacon they had seen Ocasio-Cortez driving a white Tesla in the district," the Free Beacon said. "A member of Congress, who requested anonymity due to the sensitive nature of the subject matter, reported seeing her drive the vehicle into a House parking lot on Capitol Hill."

The article noted the Whole Foods was "within walking distance" of her apartment.

After accusing her of hypocrisy for shopping at Whole Foods despite being an opponent of Amazon, the Free Beacon attacked her for criticizing Israel.

"For the time being, AOC remains one of the foremost advocates of ending U.S. aid to Israel and slapping sanctions on the Jewish state," the Free Beacon said. "She was widely criticized last week, for example, after suggesting Israel was 'an apartheid state.' Ocasio-Cortez was among the Democratic lawmakers singled out for praise in an article published on the Muslim Brotherhood's online propaganda website."

She was widely praised for it, too.


AOC is far from perfect but the stand she has taken over the past week against the U.S. funding Israel has been downright heroic.



That the most they've got on her is an alleged parking violation is hilarious!

Remember, Fusion GPS hired foreign spy Christopher Steele to spy on Trump after they got funding from the Free Beacon.

If you're Alexandria Ocasio-Cortez, you have to realize you're going to face tremendous pressure and underhanded tactics for criticizing our "greatest ally" and getting between them and U.S. taxpayers' money.

As Politico reported in 2019, Israel was caught spying on the White House and Congress with expensive stingray devices placed in sensitive locations throughout DC.

Israel secured nearly $40 billion in U.S. aid a year later and then started bombing Gaza relentlessly within a few months.

Follow InformationLiberation on Twitter, Facebook, Gab, Minds, Parler and Telegram.