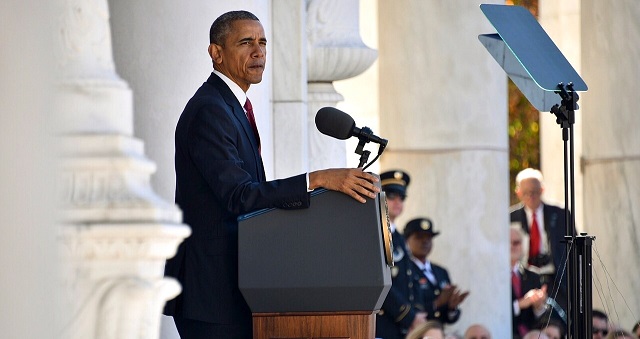 Former President Barack Obama says in his new book "A Promised Land" that politicians who "criticize Israel policy too loudly" risk getting smeared as "anti-Israel" and "anti-Semitic" and get "confronted with a well-funded opponent in the next election."

According to excerpts from his book that were first shared by Jewish Insider, Obama wrote that the policies of the American Israel Public Affairs Committee (AIPAC) shifted in line with those of Israel's right-wing government "even when Israel took actions that were contrary to U.S. policy" and that lawmakers and candidates who "criticized Israel policy too loudly risked being tagged as 'anti-Israel' (and possibly anti-Semitic) and [were] confronted with a well-funded opponent in the next election."

Obama also said he was the victim of an AIPAC "whisper campaign" and revealed he was cursed at by White House Chief of Staff Rahm Emanuel and chastised by a "'highly agitated' liberal Democratic congressman" in separate incidents for alleged slights against Israel.

From the Jewish Insider, "Obama: Netanyahu paints himself as 'chief defender''of Jews to justify political moves":

Obama writes that he was "on the receiving end" of a "whisper campaign" that portrayed him as being "insufficiently supportive -- or even hostile toward -- Israel" during his 2008 presidential run. "On Election Day, I'd end up getting more than 70 percent of the Jewish vote, but as far as many AIPAC board members were concerned, I remained suspect, a man of divided loyalties; someone whose support for Israel, as one of [David Axelrod's] friends colorfully put it, wasn't 'felt in his kishkes' -- 'guts,' in Yiddish."

[...] The former president writes that while in college, he was intrigued by the influence of Jewish philosophers on the civil rights movement. He noted that some of his "most stalwart friends and supporters" came from the Chicago's Jewish community and that he had admired how Jewish voters "tended to be more progressive" on issues than any other"ethnic group. Obama writes that a feeling of being bound to the Jewish community by "a common story of exile and suffering" made him "fiercely protective" of the rights of the Jewish people to have a state of their own, though these values also made it "impossible to ignore the conditions under which Palestinians in the occupied territories were forced to live."

According to Obama, while Republican lawmakers cared less about the right of Palestinians to have a state of their own, Democratic members of Congress -- who represented districts with sizable Jewish populations -- were reluctant to speak out about the matter because they were "worried" about losing support from AIPAC's key supporters and donors and imperiling their reelection chances.

[...] Obama maintains that he thought it was "reasonable" to ask for Israel, which he viewed as the "stronger party," to take a "bigger first step" and freeze settlements in the West Bank. But "as expected," Netanyahu's response was "sharply negative." That was followed by an aggressive pressure campaign by the prime minister's allies in Washington.

"The White House phones started ringing off the hook," Obama recounts, as his national security team fielded calls from lawmakers, Jewish leaders and reporters "wondering why we were picking on Israel." He wrote that Rhodes once arrived late for a staff meeting "looking particularly harried" after a lengthy phone call with a "highly agitated" liberal Democratic congressman who pushed back against the administration's attempt to stop settlement activity.

Obama accused Netanyahu of an "orchestrated" effort to put his administration on the defensive, "reminding me that normal policy differences with an Israeli prime minister exacted a domestic political cost" that didn't exist in relations with other world leaders.

In 2010, when Netanyahu visited Washington to attend the annual AIPAC policy conference, media reports claimed that Obama deliberately "snubbed" Netanyahu by walking out from a tense meeting and leaving the Israeli leader and his aides in the Roosevelt Room until they came up with a solution to the impasse in peace talks.

But in the book, Obama insists he suggested to Netanyahu to "pause" their meeting and reconvene after he returned from a previously scheduled commitment. The discussion, the former president said, ran well over the allotted time, and "Netanyahu still had a few items he wanted to cover." Netanyahu said "he was happy to wait," Obama writes, and the second meeting ended on "cordial terms." However, the next morning, Emanuel "stormed into" the Oval Office citing the media reports that he humiliated Netanyahu, "leading to accusations" that the president had allowed his personal feelings to damage the U.S.-Israel relationship. "That was a rare instance when I outcursed Rahm," Obama writes, referencing Emanuel's well-known use of profanity.
Though the excerpts were first published on Friday, Obama's story has been completely ignored by the Western media.

In contrast, on the same day these excerpts were released, CNN headlined a rehashed story about newly-appointed Pentagon's senior advisor Col. Douglas Macgregor saying politicians like John Bolton and Mike Pompeo got "very very rich" because of their support for "the Israeli lobby," which they put in scare quotes.


CNN's story on Col. Macgregor was a perfect example of the type of smear-campaigns Obama warned about.

From CNN, "Pentagon senior adviser accused Pompeo and senior politicians of taking money and getting rich from 'the Israeli lobby'":

A new senior adviser at the Pentagon repeatedly said the United States' support for Israel was the result of "Israeli lobby" money and accused prominent officials, including Secretary of State Mike Pompeo, of becoming "very very rich," from their support for Israel.

Retired Army Col. Douglas Macgregor, who was appointed as senior adviser to newly installed acting Defense Secretary Christopher Miller this week, made the comments in two media appearances in 2012 and 2019.

"You have to look at the people that donate to those individuals," Macgregor said in a September 2019 interview when asked if then-national security adviser John Bolton and Republican Sen. Lindsey Graham wanted war with Iran. "Mr. Bolton has become very, very rich and is in the position he's in because of his unconditional support for the Israeli lobby. He is their man on the ground, in the White House."

"The same thing is largely true for Mr. Pompeo, he has aspirations to be president," he added. "He has his hands out for money from the Israeli lobby, the Saudis and others."

An outspoken critic of American foreign policy and "endless" wars, Macgregor also said the Israel lobby has "enormous influence" on Congress and accused the lobby of wanting to instigate "military strikes" with Iran in a 2012 interview with the Russian-state media network RT.

"I think the American Israeli Public Affairs Committee (AIPAC) and it's subordinate elements or affiliated elements that represent enormous quantities of money that over many years have cultivated an enormous influence in power in Congress," he said. "I think you've got a lot of people on the Hill who fall into two categories. One category that is interested in money and wants to be reelected, and they don't want to run the risk of the various lobbies that are pushing military action against Iran to contribute money to their opponents."

Politicians in the past have been criticized by Jewish groups for linking support to Israel to money. Last year, Democratic Rep. Ilhan Omar tweeted that politicians' support for Israel is "all about the Benjamins." Omar apologized for some of those comments, which the Anti-Defamation League said were "promoting the ugly, anti-Semitic conspiracy theory that Jews have an outsized influence over politics."

Macgregor did not respond to requests for comment. The Department of Defense spokesperson referred CNN to a statement sent earlier this week confirming Macgregor's appointment and that his "decades of military experience will be used to assist in the continued implementation of the President's national security priorities."

Bolton, through a spokesman, said, "I don't respond to anti-Semites." The State Department declined to comment on behalf of Pompeo.
Follow InformationLiberation on Twitter, Facebook, Gab, Minds and Parler.