Mark McCloskey Announces Senate Run in Missouri: 'People Are Tired Of Cancel Culture, The Poison Of Critical Race Theory & The Big Lie Of Systemic Racism'
Chris Menahan
InformationLiberation
May. 19, 2021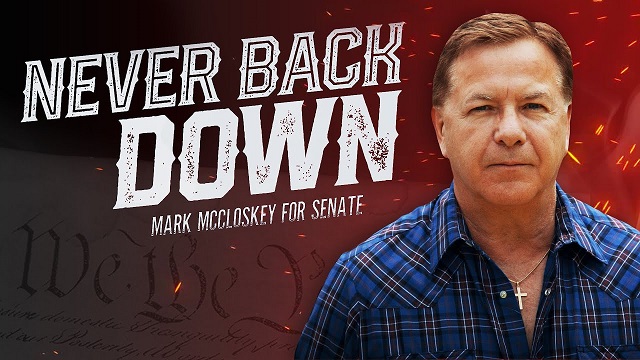 The heroic Mark McCloskey on Tuesday announced he's running for Senate in Missouri and released what may be the greatest political ad in decades.

This ad gave me chills as it showed what the Republican Party could be if they actually represented the people rather than exclusively megadonors like Paul Singer, "Jennifer" Pritzker and the late Sheldon Adelson.

I love the cross!

WATCH:



From Fox News:

A St. Louis attorney who famously defended his home from Black Lives Matter protesters who broke into his neighborhood announced his bid for U.S. Senate on Tuesday, telling "Tucker Carlson Tonight" he will defend Missourians the same way he defended his wife and family.

Mark McCloskey, who alongside wife Patricia, was pictured last year wielding a rifle and a handgun respectively when Black Lives Matter demonstrators ingressed toward their property, told host Tucker Carlson that the confrontation may have been a message in itself.

"God came knocking on my door disguised as an angry mob. It really did wake me up," he said.

"As I campaigned for [Donald Trump], and we've continued to do rallies and events supporting our constitutional rights, what I've learned is that the people are sick and tired of cancel culture -- and the poison of critical race theory and the big lie of systemic racism."
McCloskey's appearance on Tucker was not quite as strong as he echoed the GOP's boring talking points on "socialism" and criticized the government for paying people "to not work."


Lots of people are struggling because the government destroyed the economy over the corona-panic and then gave trillions of taxpayer dollars to bankers and the politically connected, which is now triggering a large inflation wave.

A (relative) pittance was given to the masses just to get them to go along with this looting-spree. Telling everyone you want to take that away is the type of losing message that only the GOP could produce!

Wealth is being consolidated into the hands of the super rich at an unprecedented rate.


We need politicians who will tackle this issue head-on. Repeating TPUSA talking points about "socialism" is not what the country needs right now.

Here's some better proposals:

"I'm going to give everyone a Universal Basic Income and make Big Tech pay for it."

"I'm going to make it illegal for companies to fire workers for their political views."

"I'm going to make it illegal for Big Tech to silence people for their political views."

"I'm going to make it illegal for banks to deny people service for their political views."

"I'm going to outlaw anti-white discrimination."

We need the spirit of Andrew Jackson, not Ronald Reagan!

We want to see bankers in prison, the mob disarmed and Big Tech nationalized!

Follow InformationLiberation on Twitter, Facebook, Gab, Minds, Parler and Telegram.