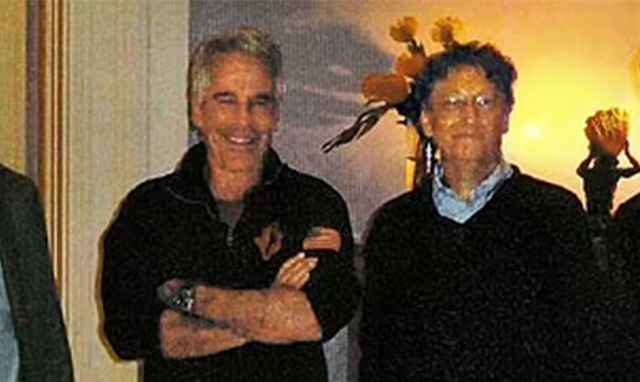 Covid superstar and media darling Bill Gates is having his reputation completely destroyed by Melinda Gates in the wake of their divorce.

I don't think there's any question that her staff is leaking all this Epstein stuff to the media:



From The Daily Beast, "Melinda Gates Warned Bill About Jeffrey Epstein":

Melinda Gates met with convicted sex offender Jeffrey Epstein alongside her husband, Bill, in New York City and soon after said she was furious at the relationship between the two men, according to people familiar with the situation.

The previously unreported meeting occurred at Epstein's Upper East Side mansion in September 2013, on the same day the couple accepted the Lasker-Bloomberg Public Service Award at The Pierre hotel and were photographed alongside then-Mayor Mike Bloomberg.

The meeting would prove a turning point for Gates' relationship with Epstein, the people familiar with the matter say, as Melinda told friends after the encounter how uncomfortable she was in the company of the wealthy sex offender and how she wanted nothing to do with him.

[...] The ties between Gates and Epstein ran much deeper than the tech mogul first admitted. As The New York Times reported, starting in 2011, Gates met with Epstein on numerous occasions. This was three years after Epstein pleaded guilty to soliciting an underage girl in Florida; by then, accusations that Epstein exploited girls and young women were widely reported in the press.


[...] The New York Times revealed Gates had met with Epstein at a 2011 get-together at Epstein's Manhattan townhouse that included the financier's ex-girlfriend Eva Andersson-Dubin and her daughter. (Virginia Giuffre, a survivor of Epstein's sex ring, has accused Dubin's hedge-funder husband, Glenn, of abuse—a charge he has strenuously denied.)

Indeed, the Times reported Gates visited Epstein multiple times from 2011 to 2013, and that Epstein had tried pitching a new charitable fund to JPMorgan honchos and to the Gates Foundation. In 2013, Gates also took a ride on Epstein's private jet (christened by tabloids as the Lolita Express), from Teterboro Airport in New Jersey to Palm Beach, Florida, according to flight records reviewed by the Times. CNBC also reported that Gates rendezvoused with Epstein in New York in 2013.

When Gates first met Epstein, he was still Microsoft's chairman and the second richest person in the world, with a net worth of $56 billion.
I wonder if Epstein ensnared Gates in his blackmail ring?






Bill Gates on Jeffrey Epstein's "Lolita Express" flight logs


Epstein was working with a lot of scientists and had plans to "seed the human race" with his DNA "20 women at a time" at Zorro Ranch.


From WSJ, "Melinda Gates Was Meeting With Divorce Lawyers Since 2019 to End Marriage With Bill Gates":

Ms. Gates consulted with divorce lawyers roughly two years before she filed for divorce from Mr. Gates, saying their marriage was "irretrievably broken," according to people familiar with the matter and documents reviewed by The Wall Street Journal.

[...] One source of concern for Ms. Gates was her husband's dealings with convicted sex offender Jeffrey Epstein, according to the people and a former employee of their charity, the Bill & Melinda Gates Foundation. Ms. Gates's concerns about the relationship dated as far back as 2013, the former employee said.

[...] According to the documents reviewed by the Journal, Ms. Gates and her advisers held a number of calls in October 2019 when the New York Times reported that Mr. Gates had met with Mr. Epstein on numerous occasions. Mr. Gates once stayed late into the night at Mr. Epstein's Manhattan townhouse, the Times reported.

Bridgitt Arnold, a spokeswoman for Mr. Gates, said in 2019 that the software mogul and Mr. Epstein had met multiple times to discuss philanthropy. " Bill Gates regrets ever meeting with Epstein and recognizes it was an error in judgment to do so," Ms. Arnold said at the time.
When these revelations first came out the media just brushed over them.

When the coronavirus broke out the media portrayed Gates as a visionary and a prophet.




Are they still going to have him on the air after this?

Follow InformationLiberation on Twitter, Facebook, Gab, Minds, Parler and Telegram.