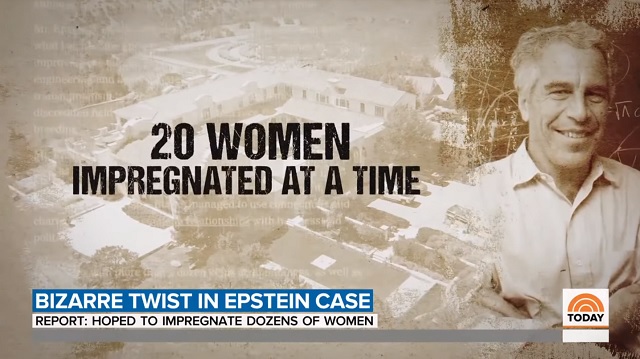 I suspect we're only scratching the surface of Jeffrey Epstein's potentially massive clandestine operation.

From New York Times, "Jeffrey Epstein Hoped to Seed Human Race With His DNA":

Jeffrey E. Epstein, the wealthy financier who is accused of sex trafficking, had an unusual dream: He hoped to seed the human race with his DNA by impregnating women at his vast New Mexico ranch.

[...] Mr. Epstein attracted a glittering array of prominent scientists. They included the Nobel Prize-winning physicist Murray Gell-Mann, who discovered the quark; the theoretical physicist and best-selling author Stephen Hawking; the paleontologist and evolutionary biologist Stephen Jay Gould; Oliver Sacks, the neurologist and best-selling author; George M. Church, a molecular engineer who has worked to identify genes that could be altered to create superior humans; and the M.I.T. theoretical physicist Frank Wilczek, a Nobel laureate.

[...] On multiple occasions starting in the early 2000s, Mr. Epstein told scientists and businessmen about his ambitions to use his New Mexico ranch as a base where women would be inseminated with his sperm and would give birth to his babies, according to two award-winning scientists and an adviser to large companies and wealthy individuals, all of whom Mr. Epstein told about it.

It was not a secret. The adviser, for example, said he was told about the plans not only by Mr. Epstein, at a gathering at his Manhattan townhouse, but also by at least one prominent member of the business community. One of the scientists said Mr. Epstein divulged his idea in 2001 at a dinner at the same townhouse; the other recalled Mr. Epstein discussing it with him at a 2006 conference that he hosted in St. Thomas in the Virgin Islands.

[...] Once, at a dinner at Mr. Epstein's mansion on Manhattan's Upper East Side, Mr. Lanier said he talked to a scientist who told him that Mr. Epstein's goal was to have 20 women at a time impregnated at his 33,000-square-foot Zorro Ranch in a tiny town outside Santa Fe. Mr. Lanier said the scientist identified herself as working at NASA, but he did not remember her name.

According to Mr. Lanier, the NASA scientist said Mr. Epstein had based his idea for a baby ranch on accounts of the Repository for Germinal Choice, which was to be stocked with the sperm of Nobel laureates who wanted to strengthen the human gene pool. (Only one Nobel Prize winner has acknowledged contributing sperm to it. The repository discontinued operations in 1999.)

[...] Mr. Epstein did not hide his interest in tinkering with genes — and in perpetuating his own DNA.

One adherent of transhumanism said that he and Mr. Epstein discussed the financier's interest in cryonics, an unproven science in which people's bodies are frozen to be brought back to life in the future. Mr. Epstein told this person that he wanted his head and penis to be frozen.

Southern Trust Company, Mr. Epstein's Virgin Island-incorporated business, disclosed in a local filing that it was engaged in DNA analysis. Calls to Southern Trust, which sponsored a science and math fair for school children in the Virgin Islands in 2014, were not returned.
They claim nothing came of his "seeding" operation. Don't believe it.

From The Daily Mail, "Jeffrey Epstein became an FBI INFORMANT to secure sweetheart deal and shut down federal probe into the pedophile's abuse of underage girls, government records reveal":

Jeffrey Epstein managed to shut down a federal probe into his illicit and illegal activities with underage girls and secure his sweetheart plea deal by providing information' to the government, FBI reports confirm.

A federal investigation into the pedophile led by the FBI was closed out on September 18, 2008 when Epstein 'provided information to the FBI as agreed upon' according to the case agent.



[...] EPSTEIN'S INFO ON BEAR STEARNS EXECS

It has been reported that Epstein got his light sentence in part because of information he traded on Bear Stearns hedge fund managers Ralph Cioffi and Matthew Tannin. The two men had bet very heavily on the Florida housing market, and found themselves with a target on their backs when the subprime market started to implode. The SEC settled with the men and suspended them from the securities industry while the government launched a federal case. Epstein was said to have given information by some, though others have questioned what information he would have been able to give in the case. In the end, both men were acquitted.

[...] Epstein also managed to get what was a two-year sentence in the non-prosecution agreement cut down to 18 months, and in the end was released 13 months after he reported to the Palm Beach Barracks.
This confirms Vicky Ward's reporting that Alex Acosta told the Trump transition team when asked about his handling of Jeffrey Epstein's case that "I was told Epstein 'belonged to intelligence' and to leave it alone."

This deal also suggests the FBI is running cover for Epstein. There's no other reason they would trade an accused serial child rapist and suspected international blackmailer for prosecuting some Bear Sterns execs, especially considering they were acquitted anyway.

Speaking of folks who are likely aiding in this cover-up, Gloria Allred is representing an "unknown number" of alleged Epstein victims.

From The Daily Beast:

Gloria Allred is representing an unknown number of alleged victims in the case against accused sex-trafficker Jeffrey Epstein. The high-profile attorney sat in Manhattan federal court Wednesday morning, telling reporters she came to "better inform" the accusers she's taken on as clients.

Allred would not say how many people she represents, but she did confirm she is working with a "number of accusers," some of whom came forward before Epstein's arrest and others who have come forward since then. Speaking to reporters, Allred urged any other victims to come forward before it became too late. "There's still time for any accusers to come forward... It is not too late to help in the process of seeking justice," she said.

The famed attorney said none of the accusers were involved in the previous Florida case and that none of them have filed a civil suit as of yet. Allred would not confirm if any of her clients had been threatened by anyone from Epstein's camp, but she did note: "In general... many persons who accuse rich, powerful men are in fear that they will be harmed in some kind of way."
Incidentally, Allred's daughter Lisa Bloom initially represented accused sexual predator Harvey Weinstein but backed out after taking heat.

As I reported last month, Weinstein is connected to Epstein through Israeli Prime Minister and the former head of Israeli Military Intelligence, Ehud Barak, who was seen entering Epstein's house in New York in 2016 and also reportedly referred Weinstein to the Israeli firm Black Cube -- a company run by a group of former Mossad agents -- to try and shut down Ronan Farrow's exposé against him by spying on his accusers.


CNBC reported Wednesday that Epstein's trial "is expected to begin no sooner than June 8, 2020," meaning he will have plenty of time to have a "heart attack" or "kill himself" over the next year.

Follow InformationLiberation on Twitter, Facebook, Gab and Minds.