After Bashing 'Killer' Putin, Biden Defends Killer Saudi Crown Prince Mohammed bin Salman
Chris Menahan
InformationLiberation
Mar. 18, 2021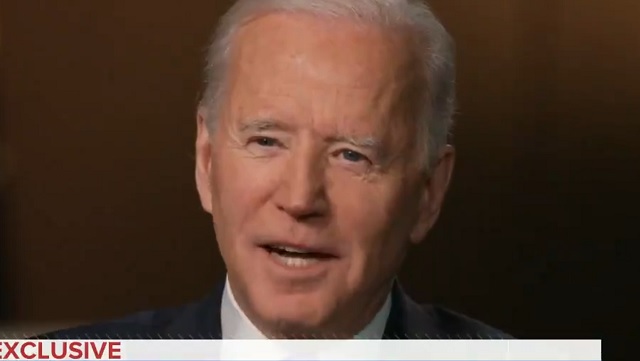 Joe Biden bashed Vladimir Putin as a "killer" who "doesn't have a soul" in an interview with ABC News released Wednesday only to turn around in the same interview and defend Saudi prince Mohammed bin Salman -- who ordered the savage murder of Jamal Khashoggi -- by insisting he not face any sanctions.

From Middle East Eye, "Khashoggi murder: Biden defends decision to not punish MBS":

US President Joe Biden defended his administration's decision to not impose sanctions on Saudi Arabia's Crown Prince Mohammed bin Salman, despite acknowledging that the royal was responsible for the murder of US-based journalist Jamal Khashoggi.

In an interview with ABC News aired in parts on Wednesday, Biden credited himself for releasing the US intelligence community's findings on the killing but said sanctioning bin Salman would have been unprecedented.

"I'm the guy that released the report," Biden said, referring to the assessment by the Office of Director of National Intelligence (ODNI) that was made public last month.

Former President Donald Trump had resisted legally binding calls by Congress to release the report, which concluded that the crown prince, known as MBS, approved the murder.

But Biden has refused to take measures to penalise bin Salman personally despite pressure from lawmakers, rights groups and press freedom advocates. Instead, the US administration expanded sanctions against the team that carried out the operation.

"We held accountable all the people in that organization - but not the crown prince, because we have never that I'm aware of, when we have an alliance with a country, gone to the acting head of state and punished that person and ostracised him," Biden said, according to a partial transcript released by ABC.
The Biden regime just rolled out new sanctions to punish Russia and threatened that more are coming.

Follow InformationLiberation on Twitter, Facebook, Gab, Minds, Parler and Telegram.