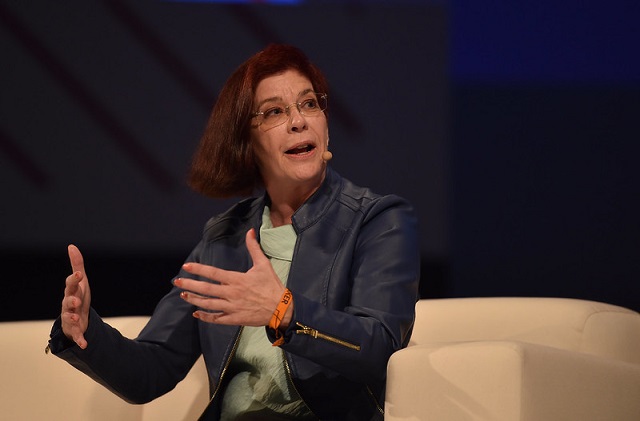 Mozilla has unveiled a new add-on with the purported aim of shielding women from "hostile comments" and "hate speech" online.

From Mozilla, "Firefox B!tch to Boss extension takes the sting out of hostile comments directed at women online":

A great swathe of the internet is positive, a place where people come together to collaborate on ideas, discuss news and share moments of levity and sorrow, too. But there's also a dark side, where comments, threads and DMs are peppered with ugly, hostile language designed to intimidate and harass. Women online, especially women who are outspoken in any field — journalism, tech, government, science, and so on — know this all too well.

What's the solution? People being less terrible, obviously. Until we reach that stage of human maturity, the B!tch to Boss extension for Firefox can help by replacing words like "bitch", often used in derogatory comments and messages directed at women, with the word "boss".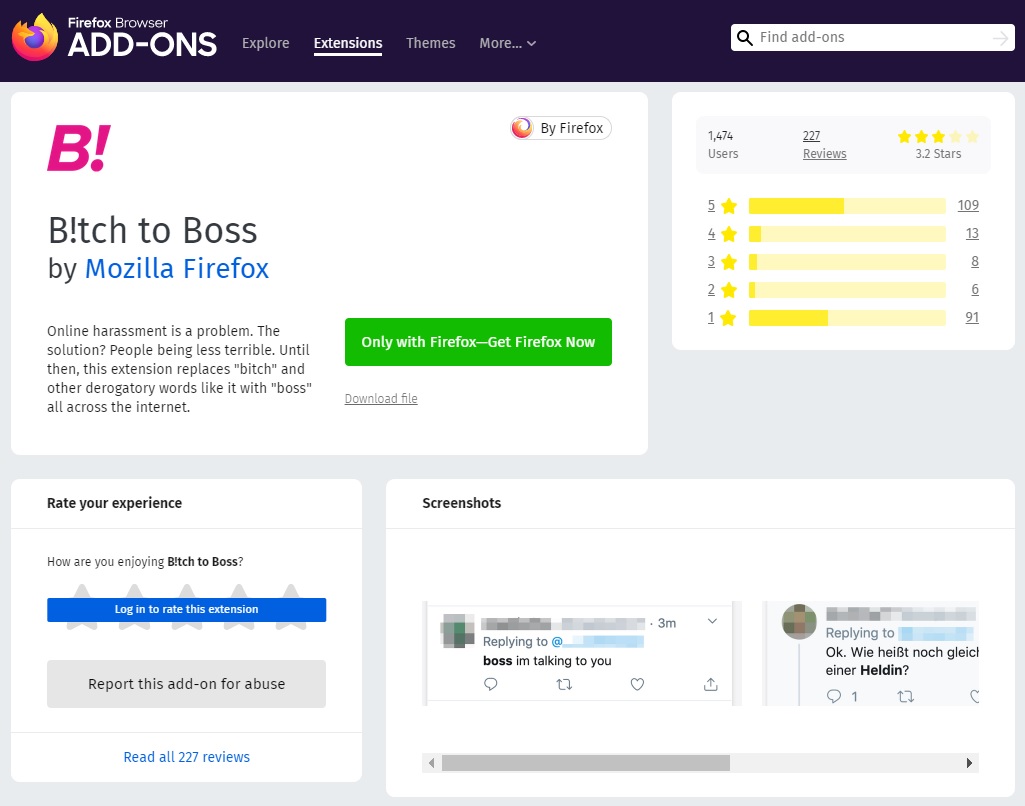 [...] Mozilla is committed to an internet that promotes civil discourse, human dignity and individual expression. A person's sex or gender shouldn't determine their access, opportunities or quality of experience online. Will the B!tch to Boss extension solve the problem of hostility and hate speech directed at women online? No, but it will make some insults sting less so we can all get on with making the internet a better place for everyone.
CEO Mitchell Baker (pictured at top) has attracted a lot of criticism over the years over the fact her salary has skyrocketed while Mozilla's market share collapsed.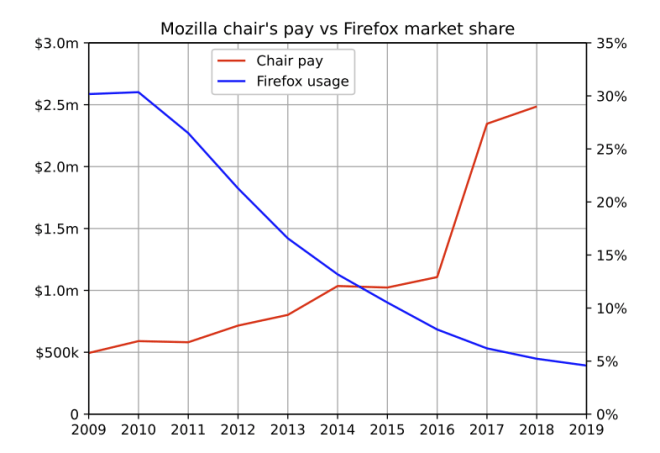 As Cal Paterson reported last year:

Mitchell Baker, Mozilla's top executive, was paid $2.4m in 2018, a sum I personally think of as instant inter-generational wealth. Payments to Baker have more than doubled in the last five years.

As far as I can find, there is no UK-based NGO whose top executive makes more than £1m ($1.3m) a year. The UK certainly has its fair share of big international NGOs - many much bigger and more significant than Mozilla.
Baker these days appears to be trying to get foundation money by pushing for internet censorship.

In June 2019, Mozilla teamed up with the Anti-Defamation League and the Charles Koch Institute to combat "online extremism."

In Nov 2020, Mozilla released a report titled "The Decentralized Web of Hate" which called for censorship to fight "white supremacists."

In January, Baker herself released an article titled, "We need more than deplatforming," which said that "the temporary silencing or permanent removal of bad actors [such as Trump] from social media platforms" is not enough.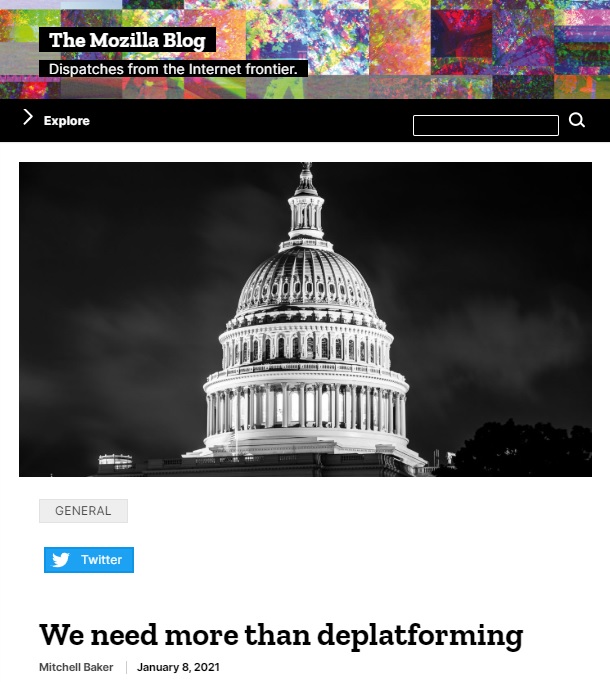 The "rampant use of the internet to foment violence and hate, and reinforce white supremacy is about more than any one personality," Baker said.

To prevent folks like Donald Trump from exploiting "the architecture of the internet" Baker called for platforms to change their algorithms and "turn on by default the tools to amplify factual voices over disinformation."

Microsoft has already done this to an extent with NewsGuard, a neocon-backed alt-media blacklisting operation that's included by default in the mobile version of their Edge web browser.

It has been a goal of the ADL for over two decades to get internet browsers to censor "anti-Semitic" and "hateful" content automatically.

The problem they've run into is there's absolutely no demand for it from the general public and the First Amendment would prevent such a measure if it was passed through legislation.

Nonetheless, this add-on is just one more small step towards acclimating people to notion their browser should determine their content.

Right now, NewsGuard is leading the way but there's no question at this point other players are going to get in on the scheme.

[Header image by Diarmuid Greene/Web Summit via Sportsfile, CC BY-SA 2.0]

Follow InformationLiberation on Twitter, Facebook, Gab, Minds, Parler and Telegram.