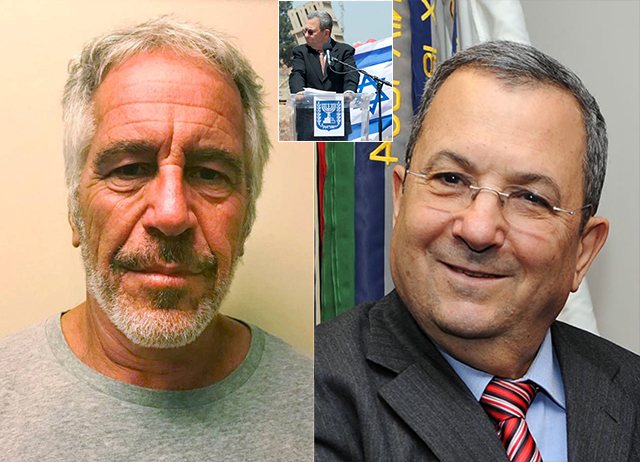 The former Prime Minister of Israel and head of Israeli Military Intelligence, Ehud Barak, would "often" crash at Jeffrey Epstein's apartment building in New York's Upper East Side, according to Epstein's neighbors.

From The Daily Beast, "Israeli Politician Ehud Barak Often Crashed at Epstein Apartment Building, Neighbors Say":

The residents of 301 East 66th St. always knew Ehud Barak was there by the flashy cars parked outside and burly security guards in the lobby. The former Israeli prime minster's visits were an open secret among the tenants of the Upper East Side building, which is owned by Jeffrey Epstein's younger brother.

Several residents of 301 East 66th St. told The Daily Beast they had seen Barak in the building multiple times over the last few years, and nearly half a dozen more described running into his security detail. The building is majority-owned by Epstein's younger brother, Mark, and has been tied to the financier's alleged New York trafficking ring.

When asked about his stays at 301 E. 66th Street, Barak told The Daily Beast, "Despite the fact that there was no wrongdoing on my part, and that there is not even the faintest suspicion of wrongdoing on my part, I'm not going to address these questions because in the current political environment in Israel, the mere fact of my response to such a question is churned up as spin in the political game."

"As a former prime minister I'm accompanied by bodyguards everywhere I go," he added.

While the Israeli politician has tried to play down his ties to Jeffrey Epstein since the billionaire's indictment on charges of child sex trafficking, Barak became a fixture of the Epstein story after Israeli outlets reported he had received more than $3 million in payments from Epstein-connected institutions since 2004.

The former prime minister was also photographed leaving Epstein's Upper East Side mansion in 2016 and has acknowledged visiting the billionaire's private Caribbean island, where Epstein is accused of hosting orgies with underage girls.


[...] In 2010, a former bookkeeper for Mc2—the modeling agency owned by Epstein associate Jean-Luc Brunel—told the FBI that the 66th St. apartments were being used to house underage girls from South America, Europe and the former Soviet Union. In a sworn statement obtained by the Miami Herald, the bookkeeper claimed Brunel was sending the girls to Epstein's parties or loaning them out to wealthy clients to be molested.
Business Insider has more:

One former resident says she "often" saw Barak and his security detail in the building, with a sighting as recent as this calendar year. Another former resident, who confirmed Barak was a frequent visitor, said he once accidentally rode the elevator with Barak and two unfriendly security guards after sliding in through the doors at the last second.

Barak's presence in the building was often announced to residents by way of a visible security detail with Suburbans idling on the street outside, witnesses say. One source who visited the building in 2017 recalls seeing what the source described as "Mossad agents" — meaning Israeli security guards — waiting downstairs, and former residents said at least one member of the security team would typically be posted in the lobby with an earpiece when Barak was upstairs. On at least one occasion, the former resident said, NYPD officers were also stationed outside.
Business Insider also reported that "Mark Epstein purchased his units from Leslie Wexner, his brother's only known client."

As I've been reporting for weeks, Jeffrey Epstein appears to have extensive connections to the Mossad. His alleged madam Ghislaine Maxwell is the daughter of media mogul Robert Maxwell, who has been dubbed "Israel's Superspy."

Vanity Fair reported last month that "prominent Republicans" think Epstein "was a Mossad agent."

While one Prime Minister of Israel reportedly slept at Jeffrey Epstein's place in New York, the current Prime Minister of Israel, Benjamin Netanyahu, reportedly slept in Jared Kushner's bed in New Jersey when he was in town visiting Kushner's father Charles (who was also locked up for involvement in a sexual blackmail scheme).



It's a small world!

Follow InformationLiberation on Twitter, Facebook, Gab and Minds.