SHOCK: New Footage Emerges Of Capitol Police Shooting Air Force Vet Ashli Babbitt At Point-Blank
Chris Menahan
InformationLiberation
Jan. 07, 2021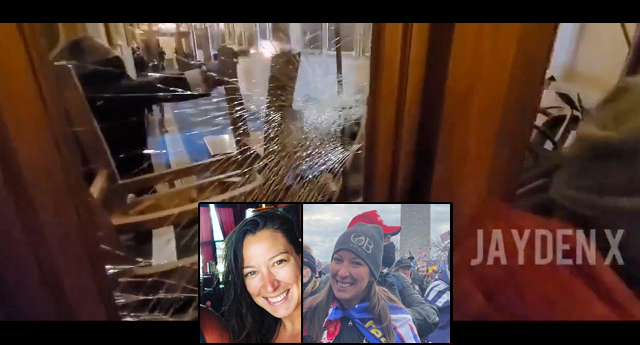 Disturbing new footage has emerged showing a Capitol police officer shooting unarmed Air Force veteran Ashli Babbitt at point-blank range on Wednesday in Washington, DC.

You can see the officer looked right at Babbitt before pulling the trigger. Additionally, there were cops armed with AR-15s right behind her.

The shooting video was censored and deleted by Twitter but a mirror can be seen on LBRY and video of the aftermath can be seen on Tayler Hanson's Twitter.

MSNBC aired footage of Babbitt being carried out on a stretcher covered in blood.

Ashli Elizabeth Babbitt, 35, was a wife and a 14-year veteran who served four tours with the US Air Force and worked as a high level security official throughout her service.

"Her husband says she was a strong supporter of President Trump, and was a great patriot to all who knew her," KUSI reported Wednesday.



[This article was updated on Feb 19 to remove dead links and replace the embed of the video with a direct link.]

Follow InformationLiberation on Twitter, Facebook, Gab, Minds and Parler.