REVEALED: Facebook Exec On 'Election Integrity' Was VP Joe Biden's Advisor On Ukraine
Chris Menahan
InformationLiberation
Oct. 19, 2020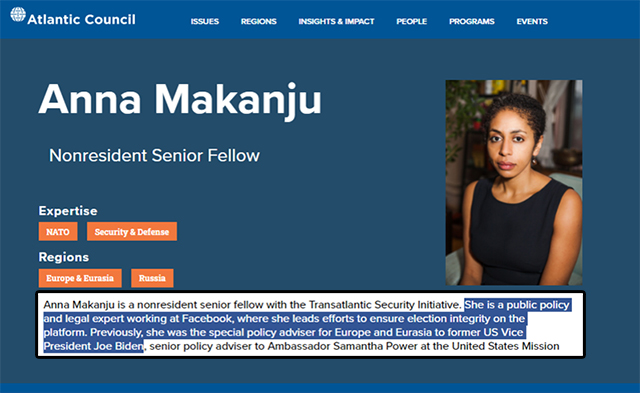 This may give us a clue as to why Facebook is censoring the bombshell stories on Hunter Biden's shady dealings in Ukraine and China.

It was revealed late last week that the head of Facebook's election integrity program, Anna Makanju, is a senior fellow at the Atlantic Council, received a fellowship from George Soros' brother's Paul & Daisy Soros Fellowship for New Americans and previously worked as Vice President Joe Biden's senior policy advisor on Ukraine.

The conflict of interest was caught by Fool Nelson on Twitter.





Makanju's bio on Soros' website says she's "currently working on content regulation at Facebook," aka censorship.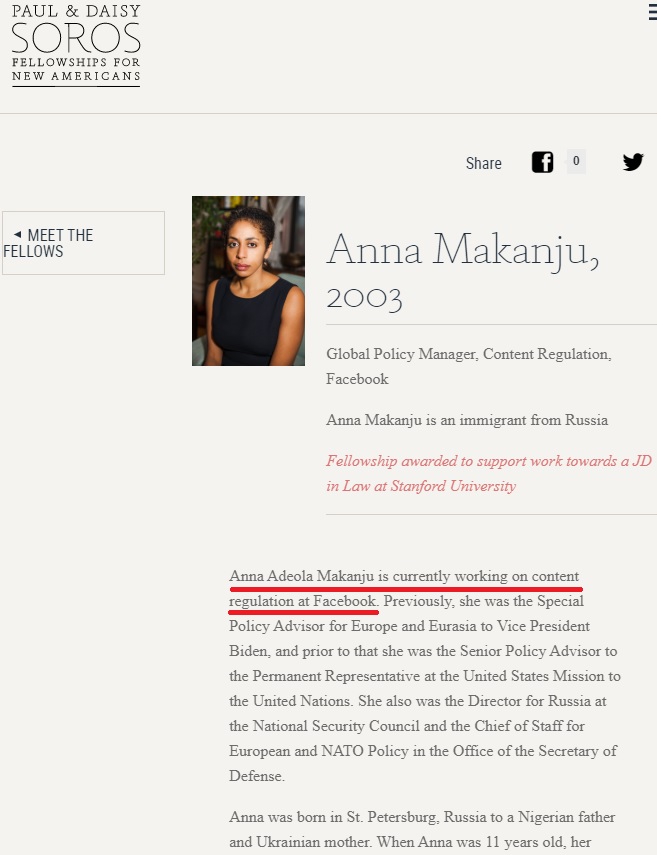 Makanju "specifically defended Biden, her former employer, from allegations of wrongdoing with regards to Ukraine," Breitbart reported, citing a 2019 report from The Washington Post.

From WashPo:

Anna Makanju, Biden's senior policy adviser for Ukraine at the time, also listened to the calls and said release of the transcripts would only strengthen Biden's case that he acted properly. She helped Biden prepare for the conversations and said they operated at a high level, with Biden using language such as Poroshenko's government being "nation builders for a transformation of Ukraine."

A reference to a private company such as Burisma would be "too fine a level of granularity" for a call between Biden and the president of another country, Makanju told The Fact Checker. Instead, she said, the conversation focused on reforms demanded by the International Monetary Fund, methods to tackle corruption and military assistance. An investigation of "Burisma was just not significant enough" to mention, she said.
The Atlantic Council has been one of the top special interest groups lobbying for mass censorship on Facebook and social media in the name of countering "foreign disinformation."

Their actions over the past three years have made it abundantly clear that they and their allies want a monopoly on spreading disinformation with no independent media being allowed to counter their lies.

Follow InformationLiberation on Twitter, Facebook, Gab and Minds.