FIREWORKS! Trump Goes to War With Senile Joe In First Presidential Debate
Chris Menahan
InformationLiberation
Sep. 29, 2020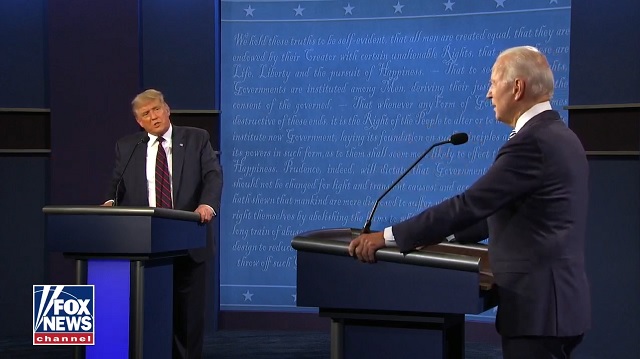 President Donald Trump took the gloves off during the first presidential debate on Tuesday night while Senile Joe Biden flubbed his first line and debate moderator Chris Wallace made an ass out of himself.

It's refreshing as hell to see actual fireworks during a debate and real issues being debated rather than the boring old debates we had before the Trump era.

I loved how Trump told Wallace, "I guess I'm debating you, not him!"


FULL DEBATE:



It came across to me like Trump was going hard against Biden just to throw him off his script and it definitely worked. I think he went a bit too far at times to the point of potentially derailing the debate but on the flip side Biden came across as weak, old and "sleepy."

Biden's incredible weakness appears to have made Chris Wallace feel the need to step in and defend him like he was his mommy taking on big bad Mr. Trump.

If Biden can't even defend himself during a debate without his mommy protecting him how is he going to run the country?

He had no response to any of Trump's questions about Hunter's corruption. It's worth noting that anyone who tries to Google issues like Burisma to see what it's about for themselves will get exclusively left-wing propaganda.

I noticed too how the camera crew kept showing Trump from behind at a bad angle while they seem to have never once shown Biden from behind except in occasional shots where it showed both him and Trump from behind and the crowd.

Wallace framing anti-white critical race theory propaganda as "sensitivity training" was absolutely pathetic but Trump's response was excellent.



The most disgraceful moment of the night was when Biden's Mommy asked Trump to condemn the "white supremacists" in Kenosha -- essentially smearing Kyle Rittenhouse as a white supremacist!


That's the only clip Twitter is allowing to trend (under multiple different hashtags) and likely the only thing the media will focus on.

Trump refused to give into his BS and submit like only he has the balls to do!

A Black Lives Matter activist ran down a group of Trump supporters at a pro-Trump rally with Proud Boys just days ago and was charged with attempted murder.


Why didn't Wallace ask Biden if he would condemn Black Lives Matter and Antifa terrorists attacking people in the streets, burning down businesses and causing the most damage of any riots in US history?


How does the mass riots and targeted murder of Trump supporters not merit a single question?

Wallace wants us to sit in fear that Trump supporters somewhere are holding rallies in the streets and fighting back when Antifa and BLM rioters attack them!

He acted like the only rioting going on was in Portland!

Wallace's question asking Trump whether he'll sit quiet and shut up while Democrats commit massive voter fraud and stage a Color Revolution was another disgrace.


Fortunately, Trump didn't go along with any of Wallace's bulls**t and said he would not be rolling over like a whipped dog come November 3rd.

Follow InformationLiberation on Twitter, Facebook and Gab.