Teen Filmed Shooting Rioters In Self-Defense Charged With First-Degree Murder
Chris Menahan
InformationLiberation
Aug. 26, 2020


Kyle Rittenhouse, 17, was reportedly arrested at his home in Antioch, Illinois on Wednesday and charged with first-degree murder for shooting three rioters in Kenosha, Wisconsin who were filmed violently attacking him on Tuesday night.

From WTVO:

Kyle Rittenhouse, 17, of Antioch, Illinois, was charged with first degree murder after allegedly killing two people and injuring another during unrest on the streets of Kenosha Tuesday night.

According to the Milwaukee Journal Sentinel, Rittenhouse was seen holding a rifle and shooting several people who were chasing him down the street in a video shared online.

Rittenhouse was reportedly arrested in Antioch on Wednesday.
A remarkable compilation video shared on Twitter shows exactly how the shootings went down:



[Note: I do not believe an incendiary was thrown but otherwise the video is quite compelling.]

UPDATE: Here's a second high-quality compilation video via Reddit (Mirror):


Higher quality version of the entire sequence of events in the Kenosha shooting from r/ActualPublicFreakouts


UPDATE II: The New York Times has revealed that Rittenhouse did not fire the first shot.





The first video we have of the shooting shows Rittenhouse being chased by an angry mob and a man is seen throwing an object at him as he runs away in fear for his life.


The man appears to have charged Rittenhouse after he was backed into a corner at which point Rittenhouse shot him in self-defense.

Rittenhouse then seeks to provide medical aid to his assailant and appears to call 911 to report the shooting to police.


After the mob targets him again, he runs away down the street and gets attacked repeatedly from behind.


He then shoots a man who bashed him with a skateboard and shoots another man in the arm as he's raising a firearm to shoot him while he's on the ground.



Rittenhouse then runs to police to turn himself in and is again attacked by the mob throwing objects at him.

Police clearly did not realize he was involved in the incident and ordered him to get out of the street, which he did.

He went home and was arrested without incident.

There's no evidence at all he set out to "murder" anyone.



On the other hand, the man who allegedly charged and attacked him in the first shooting incident was filmed begging armed guards to shoot him earlier that night and screaming, "Shoot me, N*gga!"



Wisconsin Governor Tony Evers (D) created the lawless situation where 17-year-old boys feel the need to defend their civilization from armed thugs and looters by encouraging the riots on day one despite admitting "we do not have all the details" in the Jacob Blake shooting.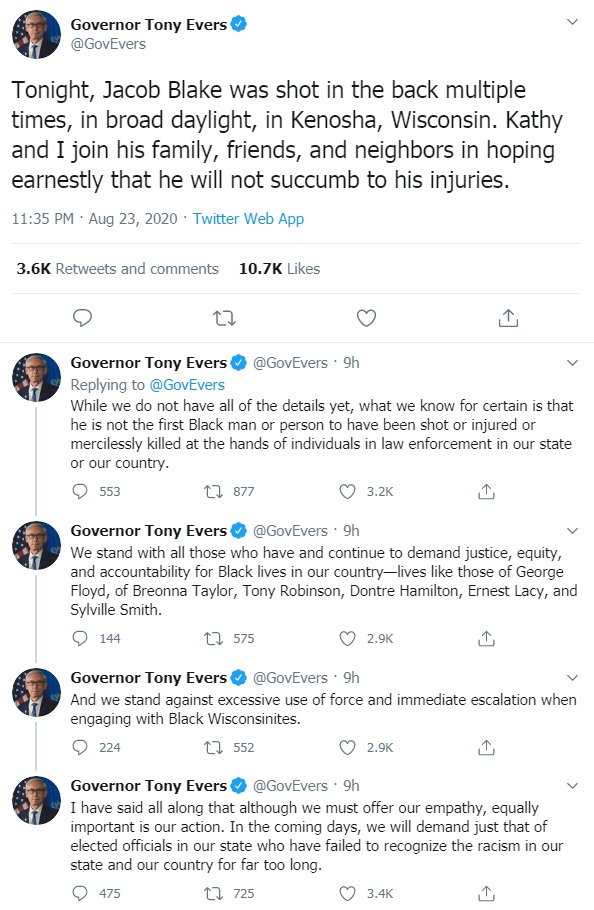 Evers then prevented the police and the national guard from shutting the riots down.

It is Evers who should be being charged charged for the crimes he's allowing these rioters to commit with impunity.


UPDATE: The first assailant who was filmed chasing Kyle Rittenhouse down in Kenosha on Tuesday night and throwing an object at him before charging him like a raging bull and getting shot is a registered sex offender for a sex crime involving a minor.

All three assailants filmed attacking Rittenhouse have criminal records.


Follow InformationLiberation on Twitter, Facebook and Gab.