NBC News: Jeffrey Epstein Confidante Ghislaine Maxwell Arrested by FBI in New Hampshire
Chris Menahan
InformationLiberation
Jul. 02, 2020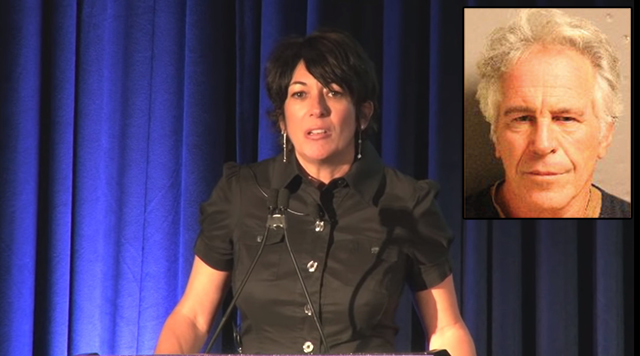 NBC News is reporting that Jeffrey Epstein's alleged madam/handler Ghislaine Maxwell has been arrested by the FBI in Bradford, New Hampshire.


From NBC New York, "Jeffrey Epstein Confidante Ghislaine Maxwell Arrested on Sex Abuse Charges":

Ghislaine Maxwell, the British socialite and heiress who became a confidante of disgraced financier Jeffrey Epstein and was later accused of involvement in his alleged sexual crimes, has been arrested by the FBI, two senior law enforcement sources tell News 4 New York.

She was arrested in Bedford, New Hampshire around 8:30 a.m. on charges she conspired with Epstein to sexually abuse minors, and is expected to appear in a federal court later today, the sources say.

Spokespeople for the FBI and the U.S. Attorney's Office in Manhattan declined to comment.
WATCH:



Indictment:



Ghislaine Maxwell, Epstein's alleged madam/handler, is the daughter of "Israel's Superspy" Robert Maxwell (born Ján Ludvík Hyman Binyamin Hoch).

Robert Maxwell died under mysterious circumstances at age 68 after "going overboard from his yacht" and was buried on the Mount of Olives in Israel with then Prime Minister Yitzhak Shamir and President Chaim Herzog and other elites attending his funeral.

Ghislaine Maxwell reportedly told a friend that Epstein's Island in Little St James was "completely wired for video."

Ghislaine's friend told Vanity Fair she "thought that [Ghislaine] and Epstein were videotaping everyone on the island as an insurance policy, as blackmail."


The Sun reported late last year that Jeffrey Epstein and his "madam" Ghislaine Maxwell were allegedly "Israeli spies" who blackmailed politicians on behalf of the Mossad.


Vanity Fair reported in July 2019 that "prominent Republicans" think Epstein "was a Mossad agent."

Epstein has also been pictured palling around with Harvey Weinstein, who hired a team of ex-Mossad agents to allegedly hunt down his accusers and spy on and intimidate Ronan Farrow and Rich McHugh who were investigating him.

The question now is whether the FBI is "tying up loose ends" or if she's actually going to be prosecuted and made to name names.

Maria Farmer and her sister were the first to report Epstein to the FBI and the NYPD all the way back in 1996 but they did nothing in response.

Farmer said recently in an interview she believes the FBI was "in on it."

[Updated with indictment.]

Follow InformationLiberation on Twitter, Facebook, Gab and Minds.