Report: Trump WH Will Not Quash Riots Because It May Hurt Chances At 'Coalition Building' With Minorities
Chris Menahan
InformationLiberation
May. 29, 2020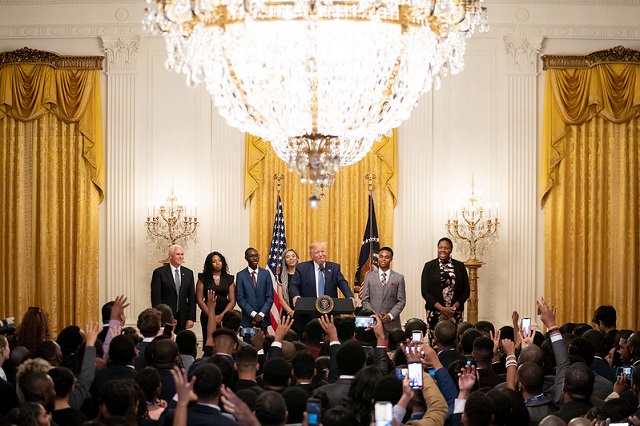 President Trump's aides came to a "general consensus" on Friday morning that the White House should not quash any riots that may happen tonight "because it would hurt their chances at coalition building with minority communities ahead of the election," Ryan James Girdusky reports.

"SCOOP: At a strategy and comms meeting earlier today, Trump aides general consensus was not to squash any riots that may happen tonight b/c it would hurt their chances at coalition building w/ minority communities ahead of the election," Girdusky said. "I really wish i could tell you i was lying."


"If anyone's expecting to see an LA riot type of response from the federal government. They're going to be disappointed. A lot of conversation went into all the work they've put in to reach out to the black community (on average, Trump's polling 8% with them)," he said.


Just a half hour later, Vice President Mike Pence sent out this tweet channeling antifa:





Trump came out a few hours later and announced that he asked the Department of Justice to "expedite a federal investigation" into Floyd's death.


Trump also backed off his statement saying "when the looting starts, the shooting starts."


Trump and Governor Tim Walz did send out the National Guard but the Guard said last night they weren't given any clear instructions and only later were told to just protect firefighters and the Capitol.



George Floyd's autopsy "revealed no physical findings that support a diagnosis of traumatic asphyxia or strangulation" and said the combined effects of Floyd "being restrained by police, his underlying health conditions and any potential intoxicants in his system likely contributed to his death."

"Mr. Floyd had underlying health conditions including coronary artery disease and hypertensive heart disease," the report said.

Trump ran as a "law and order" candidate who wanted to execute drug dealers and instead delivered Koch-Kushner "criminal justice reform" and pardoned drug dealers.

Now, his White House is putting out social justice mantras backing up the left's "racism" narratives and refusing to quell riots as a city is being looted and burned to the ground.


Follow InformationLiberation on Twitter, Facebook, Gab and Minds.