Rep Thomas Massie Stands Up For The Constitution, Trump Calls For Him to Be 'Thrown Out' Of GOP
"This stimulus should go straight to the people rather than being funneled through banks and corporations like this bill is doing."
Chris Menahan
InformationLiberation
Mar. 27, 2020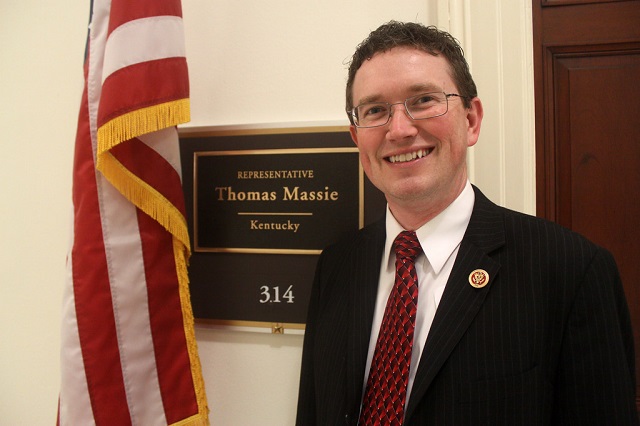 Heroic Kentucky Rep Thomas Massie, one of the only men of character in our entire congress, bravely stood up against the bipartisan $6 trillion screwjob bailout on Friday morning and said the "stimulus should go straight to the people rather than being funneled through banks and corporations."

President Trump responded by calling for him to be thrown out of the Republican Party.






The key point:


President Trump threw a fit:


Trump flat out lied and claimed Massie is aiding the Democrats' war on the Second Amendment even though he has been a stalwart defender of the right to bear arms his entire time in congress.


Trump, on the other hand, ran on protecting the Second Amendment but once he got elected he ordered bump stocks to be banned by fiat decree, came out in support of red flag gun laws and said the government should "take the guns first" and "go through due process second."


Trump went on to praise John Kerry and hail his "good sense of humor" because he called Massie "an asshole."


Thomas Massie is the closest man we've got to a Founding Father in our congress.

He's a man of incredible character and brilliance who married his high school sweetheart, built his own home out of trees he cut down on his own property and raised a beautiful family on his own farm.



Trump, on the other hand, allowed himself to be swallowed by the swamp and pushed a basic b*tch GOP agenda of tax cuts for billionaires and now trillion dollar banker bailouts for Wall Street with some chump change thrown in to buy our acquiescence.


Don't piss on our legs and tell us it's raining, Mr President.

As Massie said, this $2 trillion bill could have given $13,333 to 150 million working Americans or around $6060 to every single American rather than $1,200 per person and around $1.5 trillion to banks and special interests (on top of $4 trillion just for Wall Street).

That's a much better stimulus which would have gotten massive support from the American people rather than this screwjob which will give trillions to bankers and Wall Street speculators like Bill Ackman who should be bankrupt and in prison.

We're witnessing the largest wealth transfer from the middle class to the parasitic ruling class in history and only one congressman has the temerity to stand against it!



UPDATE:




Related: 'Make Amnesty And Open Borders Great Again': Trump Endorses Tuberville Over Sessions

Follow InformationLiberation on Twitter, Facebook, Gab and Minds.