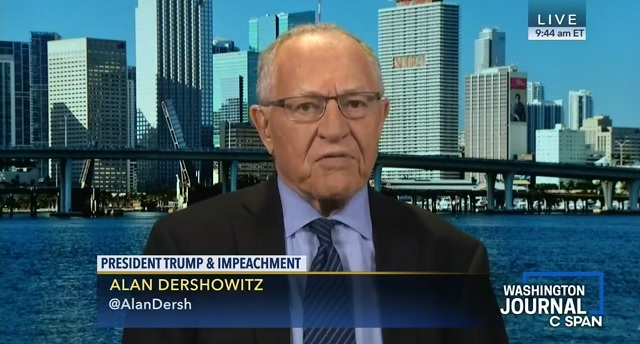 Jeffrey Epstein's defense attorney, Alan Dershowitz, was asked on Monday about Epstein's connections to Israeli intelligence by a caller on C-SPAN.

He suggested the notion there was an Epstein-Mossad connection was "paranoid drivel," compared himself to Founding Father John Adams and insisted there's "no truth whatsoever to any" claims connecting Epstein to the Mossad.

WATCH:


[Question starts at 40:32.]

Rush transcript (may contain errors):

CALLER: Thank you for taking my call. In terms of understanding this political moment in the criminality we are dealing with, I would like to bring up some books, the authors and content of which C-SPAN should consider featuring. Number one, "House of Trump, House of Putin: The Untold Story of Donald Trump and the Russian Mafia". It looks as a money laundering organization tied to organized crime. Number two, how the Russian Mob Has Invaded America." Number three, "Proof of Collusion: How Trump Betrayed America" and now "Proof of Conspiracy: How International Collusion is Threatening American Democracy." Finally, I would ask Mr. Dershowitz to address the topic -- the Israeli born former executive producer and a reporter who reported Jeffrey Epstein was being run by Israeli military intelligence. And the allegations in the book -- an intelligence agent who worked to set up money laundering instruments around the world. Mr. Dershowitz, your background in defending Pollard and then Epstein suggests you might be an agent of an Russian-Israel axis, I would ask you to address that from a Jewish American patriot of conscience perspective, that's me.

DERSHOWITZ: That is just paranoid drivel. The fact that I am a Russian agent and I am in Israeli agent -- I am independent person. I represented Jonathan Pollard because I thought his sentence was way, way excessive. The idea that Russia and Israel combined together, they're basically enemies. Russia supports Syria, Iran, indirectly Hezbollah, people who are dedicated to the complete destruction of Israel. Russia votes against Israel at the United Nations on almost every occasion. I am very proud of my career as a criminal defense lawyer. I have defended some of the most controversial people in history. I think of myself in the tradition of John Adams, who represented the Boston massacre soldiers who were accused. I think of myself in the tradition of so many other defense lawyers throughout history who have endured criticism for defending the most unpopular people of their age and generation. I am 81 years old and hope to continue defending people you don't like and who most Americans don't like because the need for a defense attorney to stand up to excesses of the prosecution and paranoid excesses of the kind you expressed in your views about Epstein working for the Mossad. What intelligence agency would trust Jeffrey Epstein to work for them? These are just allegations that are being thrown out there, there is no truth whatsoever to any of them. Certainly no truth to any claim I have ever been an agent for a foreign country. I am a loyal, patriotic American. My grandparents came here to get away from the oppressions of eastern Europe. We love America, we're patriotic and I will continue to do what I feel the American Constitution demands of me - defend people who are accused wrongly or rightly of serious matters.
The former Prime Minister of Israel and head of Israeli Military Intelligence was pictured hiding his face while entering Jeffrey Epstein's New York City townhouse (which was given to him for free by pro-Israel billionaire Les Wexner) in 2016.


Barak also reportedly regularly visited Epstein's other apartment building in New York (which was majority owned by Epstein's mysterious brother Mark who bought the apartments off Les Wexner) where underage girls say they were trafficked.


Barak entered into a "partnership worth millions" with Epstein in 2015 involving the shady Israeli firm Carbyne. An Epstein-controlled company also reportedly donated $40,000 to Barak's political activity.

Ghislaine Maxwell, Epstein's alleged madam/handler, is the daughter of "Israel's Superspy" Robert Maxwell (born Ján Ludvík Hyman Binyamin Hoch).

Robert Maxwell died under mysterious circumstances at age 68 after "going overboard from his yacht" and was buried on the Mount of Olives in Israel with then Prime Minister Yitzhak Shamir and President Chaim Herzog and other elites attending his funeral.

Ghislaine Maxwell reportedly told a friend that Epstein's Island in Little St James was "completely wired for video."


Ghislaine's friend told Vanity Fair she "thought that [Ghislaine] and Epstein were videotaping everyone on the island as an insurance policy, as blackmail."

The Sun reported earlier this month that Jeffrey Epstein and his "madam" Ghislaine Maxwell were allegedly "Israeli spies" who blackmailed politicians on behalf of the Mossad.


Vanity Fair reported in July that "prominent Republicans" think Epstein "was a Mossad agent."

Epstein has also been pictured palling around with Harvey Weinstein, who hired a team of ex-Mossad agents to allegedly hunt down his accusers and spy on and intimidate Ronan Farrow and Rich McHugh who were investigating him.

Nonetheless, there's "no truth whatsoever" to there being any connection between Epstein and the Mossad according to Alan "I Kept My Underwear On" Dershowitz!


Follow InformationLiberation on Twitter, Facebook, Gab and Minds.