Tucker Contrasts The Arrest of Jeffrey Epstein With The Arrest of Roger Stone
Chris Menahan
InformationLiberation
Nov. 19, 2019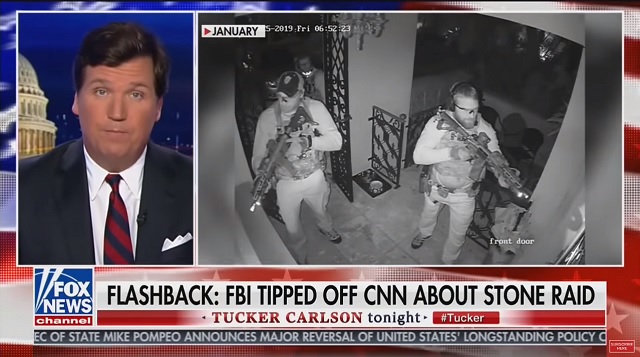 Roger Stone was raided by the FBI with CNN streaming it live while Jeffrey Epstein was reportedly "politely asked" to turn himself in after prosecutors contacted his lawyer.

From The Daily Caller, "'Just So You Know The Rules In This Country': Tucker Contrasts Treatment Of Roger Stone With That Of Jeffrey Epstein":

Fox News host Tucker Carlson contrasted the public arrest and harsh treatment of longtime Trump associate Roger Stone with the treatment received by deceased pedophile Jeffrey Epstein.

After an early morning January military-style arrest involving armed federal agents that was tipped to CNN, Stone was convicted on Friday of one count each of obstructing an official proceeding and witness tampering, along with five counts of making false statements to the House Intelligence Committee.
¡°Stone¡¯s main crime was lying to Congress about who he had or had not spoken to about Russia,¡± Carlson opined. ¡°By the time Stone¡¯s trial began in Washington, the larger scandal that ensnared him had long been debunked.¡±

Still, Carlson noted, prosecutors ¡°argued that Roger Stone should spend up to 50 years in prison, effectively the rest of his life,¡± while ¡°official Washington cheered.¡±
One upset the establishment while one worked for it.

Does anyone remember the media directing this level of animosity towards Epstein?




I just remember them covering it all up.

Follow InformationLiberation on Twitter, Facebook, Gab and Minds.