Ben Shapiro: My Editor's Statement That 'Jew-Hatred is Inherent in the European DNA' Was 'Metaphorical'
Chris Menahan
InformationLiberation
Nov. 13, 2019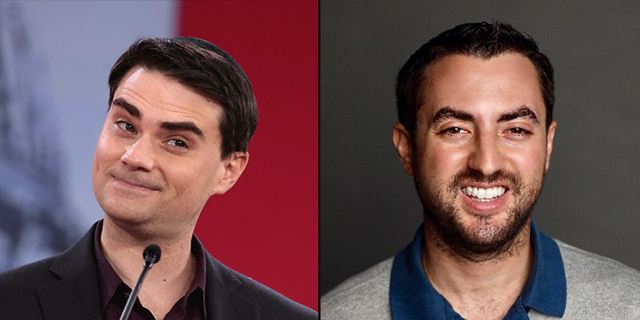 Ben Shapiro on Wednesday addressed Daily Wire editor-at-large Josh Hammer's bigoted comment that "Jew-hatred is inherent in the European DNA" by claiming he "meant it metaphorically."




Shapiro issued a statement to Mediaite on Wednesday saying: "I just spoke with him about it; he realized it was a bad tweet and deleted it before I even heard about it from you. He meant it metaphorically in the same way that Barack Obama was being metaphorical when he said racism was in America's DNA, but he realized it could be misinterpreted and taken literally."


Hammer actually made the comment at least three times.

On Monday, Hammer tweeted: "Europe will never change. Jew-hatred is inherent in its collective DNA."




Earlier this year, he criticized "Euros who have anti-Semitism in their very DNA."




For his part, Ben Shapiro in the past denigrated all Palestinian Arabs as radically "evil" and "rotten to the core."

Shapiro also tweeted: "Israelis like to build. Arabs like to bomb crap and live in open sewage. This is not a difficult issue. #settlementsrock."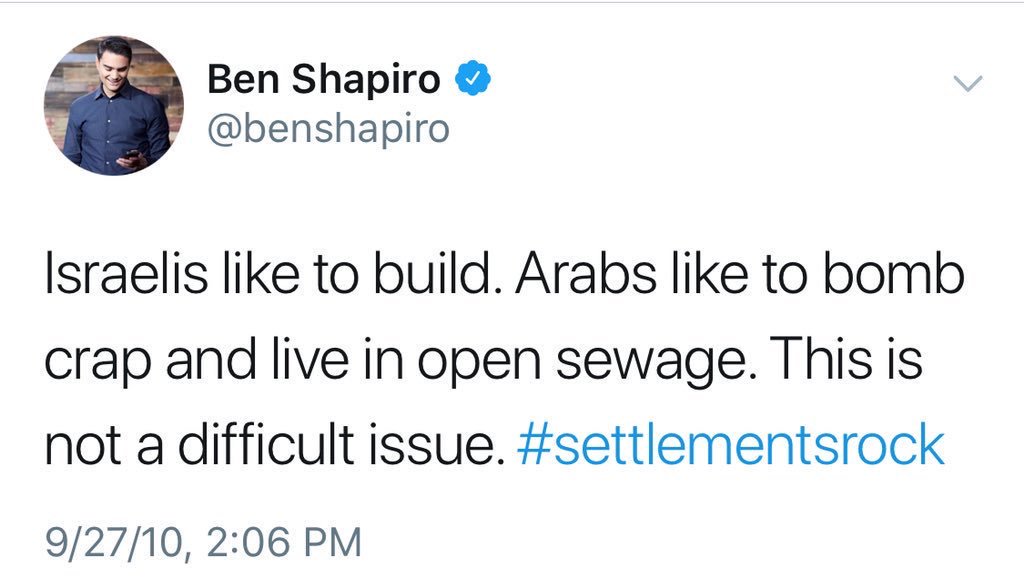 Shapiro also advocated for ethnically cleansing all "5 million Palestinians and Israeli Arabs" from Israel in a column titled, "Transfer is not a dirty word."





Shapiro wrote:

Here is the bottom line: If you believe that the Jewish state has a right to exist, then you must allow Israel to transfer the Palestinians and the Israeli-Arabs from Judea, Samaria, Gaza and Israel proper. It's an ugly solution, but it is the only solution. And it is far less ugly than the prospect of bloody conflict ad infinitum. When two populations are constantly enmeshed in conflict, it is insane to suggest that somehow deep-seated ideological change will miraculously occur, allowing the two sides to live together.

[...] The Jews don't realize that expelling a hostile population is a commonly used and generally effective way of preventing violent entanglements. There are no gas chambers here. It's not genocide; it's transfer.

[...] If there was "room in Germany for the German populations of East Prussia and of the other territories," as Churchill stated, there is certainly room in the spacious Muslim states of the Middle East for 5 million Palestinians and Israeli Arabs. If Germans, who had a centuries-old connection to the newly created Polish territory, could be expelled, then surely Palestinians, whose claim to Judea, Samaria and Gaza is dubious at best, can be expelled.

It's time to stop being squeamish. Jews are not Nazis. Transfer is not genocide. And anything else isn't a solution.
Shapiro later said his comment about Arabs liking to live in open sewage was taken "out of context" and he was referring to "Arab leadership."

He also condemned his column calling for Palestinians to be ethnically cleansed as "stupid and immoral."

Shapiro defended his column labeling Palestinian Arabs as radically "evil" and "rotten to the core" by categorizing it as something "the left doesn't like that happens to be true."

Follow InformationLiberation on Twitter, Facebook, Gab and Minds.