AP: Mormon Church 'Forced to Confront Its History of Polygamy After Nine Women And Children' Massacred
Chris Menahan
InformationLiberation
Nov. 07, 2019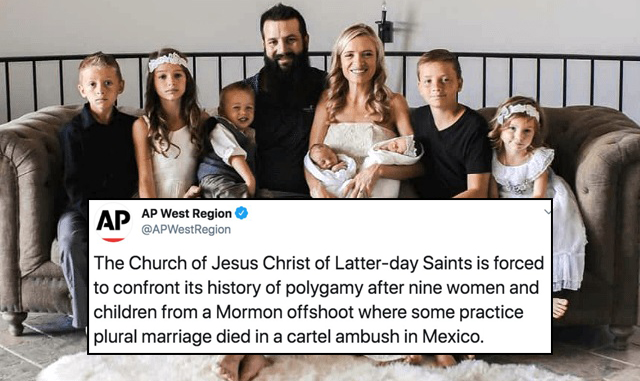 The Associated Press used the brutal massacre of an American Mormon family in Mexico to "spotlight" Mormons' "history of polygamy."

The AP tweeted Thursday afternoon:

"The Church of Jesus Christ of Latter-day Saints is forced to confront its history of polygamy after nine women and children from a Mormon offshoot where some practice plural marriage died in a cartel ambush in Mexico."
Imagine if a conservative media outlet tweeted:

"Mexicans forced to confront history of illegal immigration after 22 died in a lone wolf ambush in El Paso."
The AP tweet linked to an article titled, "Mexican killings spotlight Mormon history with polygamy":

The slaying in Mexico of nine people who belonged to a Mormon offshoot community where some people practice polygamy spotlights the mainstream church's struggle to distance itself from plural marriage, which has a history in the faith but has long been denounced.

The victims' connection to Mormonism featured prominently in headlines this week about the drug cartel attack on a caravan of American women and children living in Mexico, though there's no indication they were targeted for their religion.

The Church of Jesus Christ of Latter-day Saints issued a short statement Tuesday expressing sympathy for the victims, while pointing out they didn't belong to the mainstream church.

Church leaders were likely hoping to end confusion, which is common when news breaks about polygamous sects that are considered fundamentalist Mormons but who don't belong to the mainstream church that banned polygamy a century ago, said Patrick Mason, a religious scholar who is the Arrington Chair of Mormon History and Culture at Utah State University.

It was a typical occurrence more than a decade ago when a group led by Warren Jeffs was in the news over allegations of child sexual abuse and a raid on its Texas ranch.

"The LDS church isn't going to be able to shake the ghost of polygamy anytime soon," Mason said. "That history will continue to haunt every aspect of Mormonism for a long time to come. It's too powerful an image, it's too powerful a cultural memory."

Mason pointed to a 2007 study by the Pew Research Center during church member Mitt Romney's first run for president, which found "polygamy" was the most common word associated with members of the faith.
The AP deleted their tweet after facing backlash and revised their article to read, "Mexico killing highlights confusion over Mormon groups."

Note how the AP, which fully embraces radical leftist gender ideology and the whole LGBT agenda, framed polygamy as the ultimate evil.

"Love is love" and there's "1,000 different genders" but polygamy is downright abhorrent!

Other media outlets similarly used the massacre as an opportunity to smear the victims.

"The brutal killing of 9 members of an American family in northern Mexico on Monday highlights the long history of religious fundamentalist settlers in the region," The New York Times tweeted.


"Slain U.S. citizens were part of Mormon offshoot with sordid history," read a headline from NBC News.


The New York Post ran an article smearing the women killed in the massacre for having "alleged ties to sex cult Nxivm."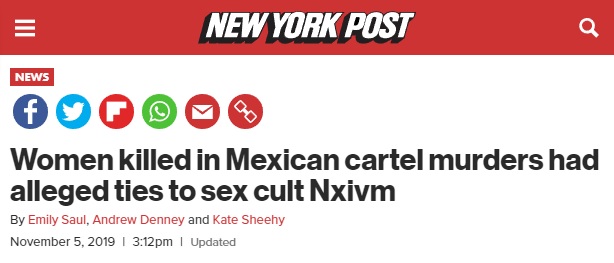 The actual body of the article says the "alleged ties" are that young women from their Mormon community were targeted by (the Bronfman's) Nxivm predators.

Follow InformationLiberation on Twitter, Facebook, Gab and Minds.