NYT Highlights History Of 'Religious Fundamentalist Settlers' In Mexico After American Mormon Family Massacred
Chris Menahan
InformationLiberation
Nov. 05, 2019


The New York Times on Tuesday was accused of attempting to justify the brutal massacre of an American Mormon family in Mexico by highlighting the history of "religious fundamentalist settlers" in Mexico.


"In other words, the NYT wants you to know that the American family recently murdered by the Mexican cartel had it coming, for the usual Current Year antiquarianist reasons," Steve Sailer commented. "They're not immigrants, they are settlers!"

The second an illegal alien steps foot into America -- or even before then -- they're considered "American" by our liberal ruling class.

Meanwhile, Mormons who've lived in Mexico for over 130 years and Dutch who've lived in South Africa for over 360 years are all "settlers" and "colonizers."

The New York Post on Tuesday ran an article smearing the women killed in the massacre for having "alleged ties to sex cult Nxivm."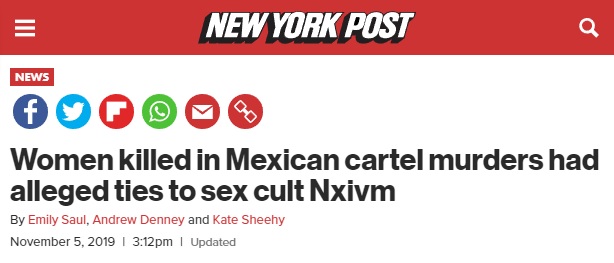 The actual body of the article says the "alleged ties" are that young women from their Mormon community were targeted by (the Bronfman's) Nxivm predators:

The outpost Mormon community in Mexico is where underlings of Nxivm leader Keith Raniere recruited young women to work as nannies in an upstate New York compound run by the accused cult — suggesting at least in part that the jobs would get the girls away from their home region's drug violence, according a man hired by Raniere to produce a documentary about the group.
The media is the enemy of the people.

Follow InformationLiberation on Twitter, Facebook, Gab and Minds.