Tucker: Neocons Angrier About Prospect of Leaving Syria Than Illegal Immigration, Fentanyl Epidemic
Chris Menahan
InformationLiberation
Oct. 08, 2019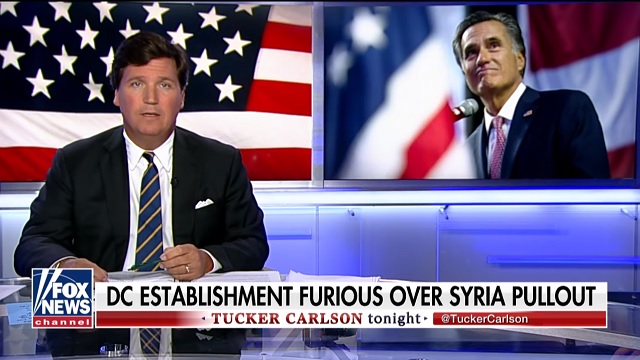 Fox News host Tucker Carlson praised President Trump on Monday night for withdrawing US troops from northern Syria and bashed GOP neocons "demanding we stay in Syria forever."



From Daily Caller:

"We'd love to tell you it's just the lefty hacks on CNN demanding that we stay in Syria forever, but unfortunately it was not– not even close. A ton of republicans on capitol Hill made exactly the same point," Tucker said.

Among those Republicans that Tucker called out were Sen. Majority leader Mitch McConnell, former Ambassador to the United Nations Nikki Haley, South Carolina Republican Sen. Lindsay Graham, Utah Republican Sen. Mitt Romney and Nebraska Republican Sen. Ben Sasse.

"All of them seem far angrier about the prospect of leaving Syria than they ever do about illegal immigration or Americans dying of fentanyl overdoses," Tucker claimed.
This is what's driving their anger.

Follow InformationLiberation on Twitter, Facebook, Gab and Minds.