ADL, Dems Push 'Disarm Hate Act' to Seize Guns of Those Convicted of a 'Misdemeanor Hate Crime'
Chris Menahan
InformationLiberation
Sep. 12, 2019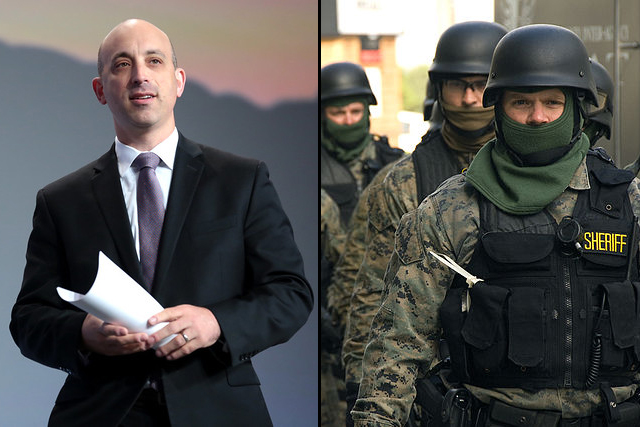 The Anti-Defamation League and the Democrats in congress want to ban Americans convicted of "misdemeanor hate crimes" from owning guns, outlaw so-called "high capacity" magazines and pass "red flag" gun laws nationwide to seize people's guns at the slightest whim of a government bureaucrat.


From Newsweek:

The House Judiciary Committee passed new legislation overnight which would prohibit individuals convicted of misdemeanor hate crimes from owning firearms. The Disarm Hate Act is one among a flurry of new congressional proposals that have gained traction in the wake of several high-profile mass shootings in recent weeks.

The bill now heads to the floor of the House of Representatives for a vote before the full chamber.

"The link between gun violence and bigotry is clear. Convicted hate criminals are a danger to our society. They should not be allowed to legally own guns," Representative David Cicilline, who sponsored the bill, said in a press release. "I'm pleased that we are sending this bill to the House floor. Democrats are taking action to save lives. Until Republicans stop blocking these bills, the blood of nearly 40,000 Americans each year will continue to stain their hands."

The committee also signed off on a pair of other gun control items, tackling areas of concern for activists who have pushed for tighter regulation of firearm possession. One bill would outlaw high capacity magazines, and another would encourage states to pass "red flag" laws, which allow courts to temporarily confiscate guns from suspected violent actors.
Here's some examples of potential misdemeanor hate crimes from SHouse California Law Group:

- A man stands outside a polling place on election day pretending to be a volunteer. When Hispanic voters arrive at the polling place, he gives them incorrect information about where they should go to cast their ballot. The man may be charged under California's hate crimes laws for interfering with those people's civil rights based on their ethnicity.

- A woman threatens violence against her neighbors, a homosexual male couple. The woman may be charged under California's criminal threats law . . . and she may face several additional years in prison if the prosecutor can prove that she made the threats because of the couple's sexual orientation.

- Several teenagers vandalize a Jewish temple. In addition to being charged with ordinary vandalism, they may face much more severe penalties if they were motivated by bias against the Jewish religion.

- A man who hates the Catholic religion creates a disturbance at a Catholic mass, yelling, screaming and damaging property in the church. (This man could also be charged with the related offense of Penal Code 302 PC disturbing a religious meeting, which is a separate misdemeanor offense.)
The left wants to seize your guns and disarm you for life if you so much as commit a "misdemeanor hate crime" by making a scene at a religious meeting.

These are the same people who constantly lament "mass incarceration" and "over policing"!

Clearly, that only applies if your a member of a privileged "protected" group.

The ADL in June filed an amicus brief in support of convicted cop killer Randy Halprin, who is currently on death row, calling for his execution to be halted because the cop killer claimed his judge was "anti-Semitic."


Meanwhile, as we learned last week, if you're a law-abiding gun owner who supports the NRA you're to be labeled a "domestic terrorist" (and same goes for those "conspiracy theorists" who don't believe Jeffrey Epstein killed himself in prison)!


This should give you an idea of where these "red flag" laws are going.

Unfortunately, the Republicans are pushing similar cockamamie schemes and are planning to put forward a gun control proposal as early as next week.

As I reported last week, the Trump administration is considering partnering with Google, Amazon and Apple in a proposal which may use data collected from in-home listening devices to rate Americans with a social credit score to determine whether they can own a gun.

We're rapidly entering territory far beyond anything dreamed up in George Orwell's 1984. There seems to be a clear desperation on the part of our ruling oligarchs to move swiftly to clamp down on all our freedoms lest the populist pleb revolt which manifested in Trump's election get out of hand.

Follow InformationLiberation on Twitter, Facebook, Gab and Minds.