Report: Jeffery Epstein 'Buried In An Unmarked Grave,' Parents' Names Scrubbed From Tombstone
Chris Menahan
InformationLiberation
Sep. 09, 2019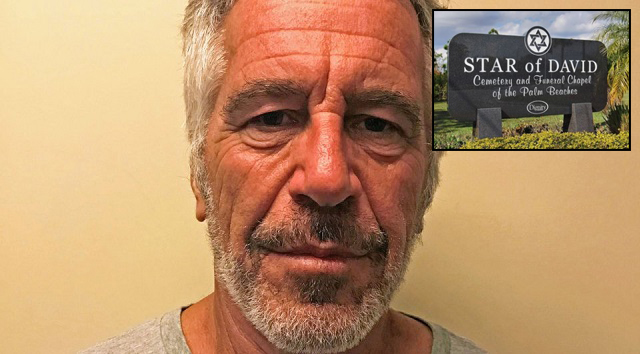 They're not even going to show us a body.

From Jerusalem Post:

Eccentric financer and pedophile Jeffery Epstein, who once held lavish dinners for scientists and discussed his support of transhumanism, was laid to rest in an unmarked grave next to his parents Seymour and Paula, the Mirror reported on Thursday.

Epstein was laid to rest at the IJ Morris Star of David cemetery in Florida near Palm Beach.

To prevent vandalism, the names of his parents were removed from the tombstone.
We've only been shown two photos of Epstein being removed from the jail from a photographer with the New York Post (the same outlet which ran the fake Ghislaine Maxwell photos and lied about their origins).


At the time both were released, reports were saying Epstein may still be alive while others were speculating he may have "committed suicide."

The media reported last month that Jeffrey Epstein's body was claimed by an "unnamed associate."

The Daily Beast reported "a person with direct knowledge of the situation" said it was his brother Mark Epstein.

Epstein's brother Mark was the majority owner of the apartment building in New York's Upper East Side where the former Prime Minister of Israel and head of Israeli Military Intelligence, Ehud Barak, would "often" crash at with Jeffrey Epstein.


The source of Mark's wealth is also a "mystery," according to the Wall Street Journal.


The Daily Caller connected Adam Schiff and Debbie Wasserman Schultz to Mark Epstein's strange foreign policy think tank last month.


The New York Post reported last month that Jeffrey Epstein allegedly signed a will two days before his alleged death and court records indicate his "only potential heir was his brother, Mark Epstein."

Just as with Ghislaine Maxwell and Les Wexner, the feds have conducted zero raids to gather any possible evidence of his role in Epstein's operation.

The Farmer sisters tipped the FBI and the NYPD off to Epstein's crimes in 1996 and they did nothing to stop him. As Alex Acosta said, Epstein "belonged to intelligence."

Follow InformationLiberation on Twitter, Facebook, Gab and Minds.