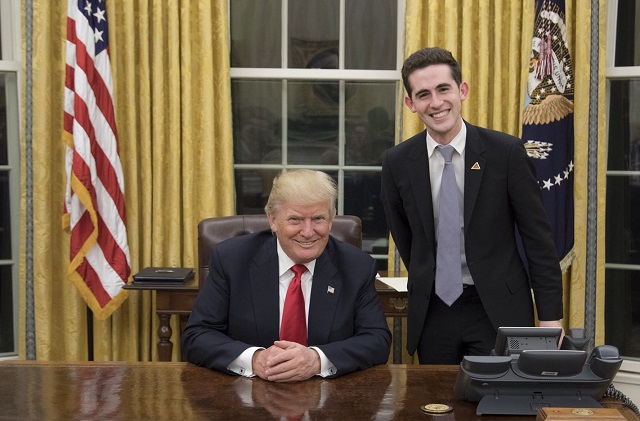 President Trump on Thursday praised outgoing special envoy for Middle East peace, Jason Greenblatt, for "his dedication to Israel" before going on to hire Jared Kushner's friend Avi Berkowitz to take Greenblatt's place.

"After almost 3 years in my Administration, Jason Greenblatt will be leaving to pursue work in the private sector," Trump said on Twitter. "Jason has been a loyal and great friend and fantastic lawyer. His dedication to Israel and to seeking peace between Israel and the Palestinians won't be forgotten. He will be missed. Thank you Jason!"



Business Insider released a profile of Berkowitz in 2017 describing him as Jared Kushner's "protégé":

Avi Berkowitz was an undergrad at Queens College when he met Jared Kushner during a game of pick-up basketball at a Passover celebration in Phoenix, Arizona.

Kushner, then a young real-estate mogul from New Jersey, took a liking to Berkowitz, who, like Kushner, was raised in an Orthodox Jewish home in the New York City suburbs.

At the time, neither could have predicted that a few years later, Kushner, now a senior adviser to his father-in-law, President Donald Trump, would be one of the most powerful people in the country and Berkowitz his right-hand man.

Berkowitz, 28, is in many ways Kushner's protégé, following him to Kushner Companies, then to Trump's campaign, and now to the West Wing. Both Ivy League-educated lawyers, they have matching dispositions and similar worldviews influenced by their Jewish schooling and deep ties to Israel, according to several of Berkowitz's friends who spoke with Business Insider. Berkowitz reflects a larger trend in a White House staffed by friends and family of a president who prizes loyalty and de-prioritizes political experience.


[...] Berkowitz was not known for harboring particularly strong political beliefs before he joined Trump's campaign. A friend of Berkowitz's who met him in Israel and later roomed with him at Harvard Law School told Business Insider that the two rarely had explicitly political discussions.

[...] In the spring of 2016, around the time Kushner asked Berkowitz to join Trump's campaign, Berkowitz began writing about campus issues for the New York Observer, the weekly newspaper Kushner bought in 2006.

[...] While he's an outspoken free-speech advocate when the speech fits his politics, Berkowitz was quick to condemn that which offended him personally, including when a fellow law student asked Tzipi Livni, the former Israeli foreign minister, why she was " so smelly" at a Harvard-sponsored discussion on Israeli-Palestinian relations in April 2016.

In an open letter, leaders of the Jewish Law Students Association called the question blatantly anti-Semitic."

The student apologized, claiming his goal was to call attention to Livni's complicity in alleged war crimes against Palestinians. He said he did not realize the word "smelly" had anti-Semitic connotations.

Berkowitz responded in an Observer op-ed, saying that "recent anti-Israel sentiment on college campuses has emboldened students to conflate protest with hate speech."


[...] Berkowitz and Kushner have similar approaches to Israel. Both men have deep ties to the country.

Kushner's family has donated millions of dollars to Israeli institutions, including schools and hospitals, some located in settlements, and has a longstanding relationship with Israeli Prime Minister Benjamin Netanyahu.

Growing up, Kushner attended Jewish schools and was taught to "protect Israel, remember the genocide, and assure the survival of the Jewish people," The New York Times reported recently. The report cited people close to him who said Kushner's Judaism and support of Israel were inextricably intertwined.

While Kushner's political stances are often not well understood, his approach to Israel has remained consistent and central to his politics. He is widely credited with shaping Trump's policy toward Israel, and the president has assigned him the monumental task of brokering peace between Israel and Palestine.


Israel and Judaism have played similarly central roles in Berkowitz's life. His family is also tied to powerful Jewish leaders. Berkowitz's cousin, Howard Friedman, was the first Orthodox president of the American Israel Public Affairs Committee, the most influential pro-Israel lobbying group in the US.

Growing up in Lawrence, Long Island, an affluent, largely Jewish town 45 minutes from Manhattan, Berkowitz was educated at a local Orthodox day school. After high school, he spent two years studying religious texts at Yeshiva Kol Torah in Jerusalem, a prestigious Israeli Orthodox seminary. Berkowitz came back to the US in 2009 to attend Ner Israel Rabbinical College in Baltimore, where he started his undergrad studies before transferring to Queens College.

In Israel, Berkowitz was taught to understand the Israeli-Palestinian conflict in religious terms, a worldview that [Rabbi Johnny] Ouzzan said "definitely" informed Berkowitz's politics.

Of the West Bank and other Palestinian territories, Ouzzan said, "These are lands that religious Jews believe were part of the whole of Israel that was given to the Jewish people, starting with Abraham and Isaac and Jacob going back to the times of the Bible.

"There's a lot of emotional connection that we as a people feel for those lands," he added.

For many American Orthodox Jews, US policy toward Israel heavily influences their political allegiances. Ouzzan said many in the Orthodox community turned to Trump for relief from years of tense relations between President Barack Obama and Netanyahu.

"Many people just didn't feel like Obama had Israel's back," Ouzzan said. "The way he put demands on Israel, the Iran deal, the request to cease settlement construction."
No bias here, folks!

Just another solid America First™ appointment from President Kushner and his personal assistant, the King of Israel!

Follow InformationLiberation on Twitter, Facebook, Gab and Minds.