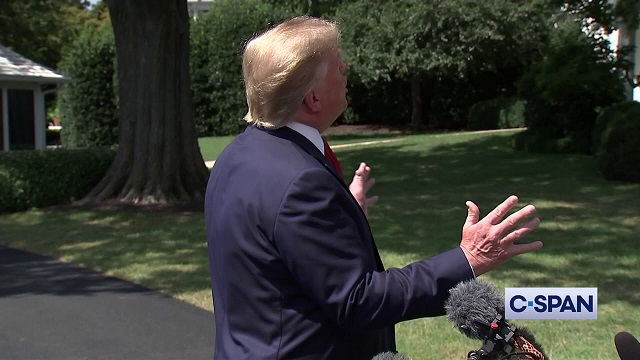 It looks like the Zionists constantly telling President Donald Trump he's like "Queen Esther" from the Hebrew Bible has gotten to his head.



Here's the clip he quoted from:


From Wayne Allyn Root's Wikipedia:

In June 2016, Root described himself as a "Jew turned Evangelical Christian". As of November 2016, Root described himself as Jewish, and says he considers Donald Trump to be the first Jewish president, in the same sense that Bill Clinton was often called the "first black president".
Trump went on later in the day to say, "I am the Chosen One."


Note the long pause when asked if he believes he's "the second coming of God":


Trump also criticized Rep. Tlaib for wanting to cut off the billions in aid we give to Israel:


At a press conference on Tuesday, he said she and Omar "hate Israel" and "hate Jewish people" and said "I think any Jewish people that vote for a Democrat, I think it shows either a total lack of knowledge or great disloyalty."



As a reminder, earlier this year Secretary of State Mike Pompeo told the Christian Zionists at CBN it's "possible" Trump was sent by God the be the savior of Jews.



From Politico:

During an interview with Pompeo broadcast on the Christian Broadcasting Network, Middle East bureau chief Chris Mitchell noted that Wednesday and Thursday marked the celebration of Purim, which is derived from the story of Queen Esther, who in the Hebrew Bible was married to a Persian king and saved thousands of Jews from being killed.

"Could it be that President Trump right now has been sort of raised for such a time as this, just like Queen Esther, to help save the Jewish people from the Iranian menace?" Mitchell asked Pompeo.

"As a Christian, I certainly believe that's possible," Pompeo, who was visiting Israel, replied.

"It was remarkable — so we were down in the tunnels where we could see 3,000 years ago, and 2,000 years ago — if I have the history just right — to see the remarkable history of the faith in this place and the work that our administration's done to make sure that this democracy in the Middle East, that this Jewish state remains," he said.

"I am confident that the Lord is at work here," Pompeo concluded.
The wife of pro-Israel Jewish Republican megadonor Sheldon Adelson, Miriam, said earlier this year Trump was doing "miracles" for Israel by moving the embassy to Jerusalem, declaring the Golan Heights to be Israel's and pulling out of the Iran nuclear deal.




Miriam Adelson also suggested a "Book of Trump" should be added to the Bible:

By rights, Trump should enjoy sweeping support among U.S. Jews, just as he does among Israelis. That this has not been the case (so far — the 2020 election still beckons) is an oddity that will long be pondered by historians. Scholars of the Bible will no doubt note the heroes, sages and prophets of antiquity who were similarly spurned by the very people they came to raise up.

Would it be too much to pray for a day when the Bible gets a "Book of Trump," much like it has a "Book of Esther" celebrating the deliverance of the Jews from ancient Persia?

Until that is decided, let us, at least, sit back and marvel at this time of miracles for Israel, for the United States, and for the whole world.
It was revealed earlier this month that Jared Kushner's Orthodox Jewish Chabad-Lubavitch synagogue refer to Ivanka as the Jewish savior "Queen Esther":

Members of first daughter Ivanka Trump and her husband Jared Kushner's synagogue call her a savior, Esther, a Jewish queen who steered her husband, a Persian king, away from annihilating Jews.

The nickname for Trump, who converted to Judaism to marry Kushner who is Jewish, is detailed in a New York Magazine piece Monday by journalist Vanessa Grigoriadis, the narrator of the podcast "Tabloid: The Making of Ivanka Trump," by the magazine and Luminary Media which debuted the same day.


"At their synagogue, at least a few people began referring to Ivanka, the first Jewish member of an American First Family, by a new nickname, that of a savior," wrote Grigoriadis, who interviewed 60 of Trump's friends and colleagues.

Grigoriadis added that White House Press Secretary Stephanie Grisham "confirms that they called her Esther, after the beautiful Jewish wife of a Persian king who convinced him to cancel an order to annihilate the Jews."

In the Book of Esther, Persian king Ahasuerus chooses Esther, a Jewish exile, to be his new wife due to her beauty. The king's adviser gets permission from him to order all Jews in the kingdom to be killed, but Esther gets her husband to revoke the command and allow Jews to defend themselves and kill people who threaten them.

Grigoriadis does not name the synagogue that praises Trump as Esther. According to The New York Times in November 2018, Trump and Kushner, both senior White House advisers, walk to an Orthodox Chabad shul near their home in the Kalorama neighborhood of Washington, D.C., and observe shabbat every week. The couple reportedly have mezuzas, parchments with Hebrew verses, on the doors of their offices in the West Wing and bring their children to a Jewish day school.
As a reminder, this was what Trump ran on during his campaign:






From The Times of Israel, March 2016, "Trump says he'll make Israel pay for defense aid":

Republican presidential front-runner Donald Trump said Monday he believes Israel should pay for defense aid it receives from the US, hours before he was slated to give a speech at the pro-Israel AIPAC policy conference.

During a press conference in Washington, Trump was asked whether he believed the Israeli government should pay for American defense, as he had called for other US allies such as South Korea, Japan and Saudi Arabia to do.

"I think Israel will do that also, yeah, I think Israel do—there are many countries that can pay and they can pay big league," responded the billionaire businessman.
This is some weird, wild stuff.

I don't know what to make of it other than I'm glad to see our bizarre relationship with Israel is finally getting light shined on it.

The top story at the Times of Israel on Wednesday was titled, "Dreadful symbiosis sees Israel and Jews pulled into volcanic core of US politics," subheader, "Trump wants 'The Squad' to be regarded as the new face of the Democratic Party... and so do they. Now Israel, and US Jews, are being dangerously squeezed between partisan extremes":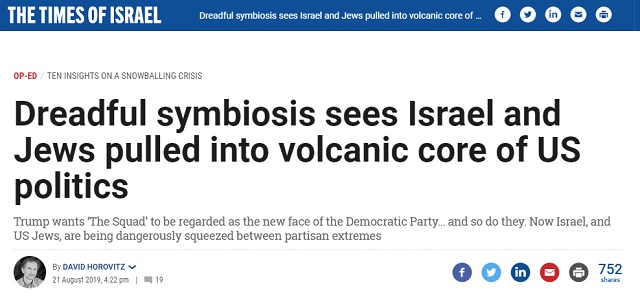 Excerpt:

Until just days ago, Israel was one of the very last bipartisan, relatively consensual issues in America's bitterly polarized political arena. Divided on most everything, legislators could at least come together, for instance, to approve supplementary funding for the Iron Dome defense system at the time of the 2014 conflict with Hamas, when thousands of rockets were being fired into Israel.

Emblematically, as they made their separate trips to Israel under the aegis of the educational affiliate of the AIPAC lobby earlier this month, newly elected members of Congress from the Republican and Democratic parties celebrated the fact that the last few days of the Democrats' trip overlapped with the first few days of the Republicans', enabling them to spend a weekend in Israel on a joint program — a rare, and, the participants themselves stressed, much appreciated, bridge across the partisan divide.

Now, though, Israel is emphatically a wedge issue in American politics, and one that will feature not only in the 2020 presidential campaign (where candidates are already weighing in) but in electoral battles nationwide.
Follow InformationLiberation on Twitter, Facebook, Gab and Minds.