UC Berkeley Ordered to Pay Conservative Group $70K, Abolish Heckler's Veto, Protect Free Speech
Chris Menahan
InformationLiberation
Dec. 04, 2018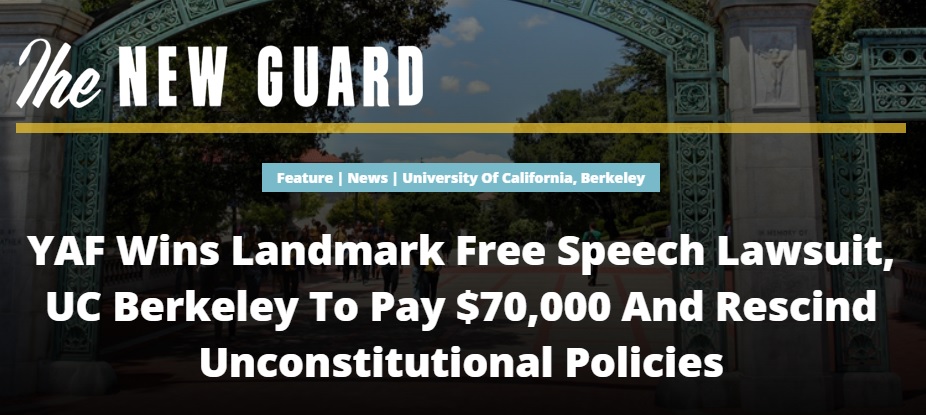 The Young America's Foundation won a huge victory over UC Berkeley's leftist administrators over the weekend after the college was ordered to pay them $70,000 and guarantee conservatives' free speech rights.

From Young America's Foundation:

Following more than a year of hard-fought litigation in the hostile Ninth Circuit, Young America's Foundation secured victory for free speech against the University of California, Berkeley. Through YAF's lawsuit and subsequent settlement agreement executed over the weekend, UC Berkeley agreed to the following terms set by Young America's Foundation:

1) Pay Young America's Foundation $70,000.

2) Rescind the unconstitutional "high-profile speaker policy."

3) Rescind the viewpoint-discriminatory security fee policy.

4) Abolish its heckler's veto – protestors will no longer be able to shut down conservative expression.

This landmark victory for free expression means UC Berkeley can no longer wantonly treat conservative students as second-class members of its community while ignoring the guaranteed protections of the First Amendment.
This is going to be exciting. The issue of antifa terrorist violence is still alive and well, so it will be interesting to see how the college responds to it.



Follow InformationLiberation on Twitter, Facebook, Gab and Minds.