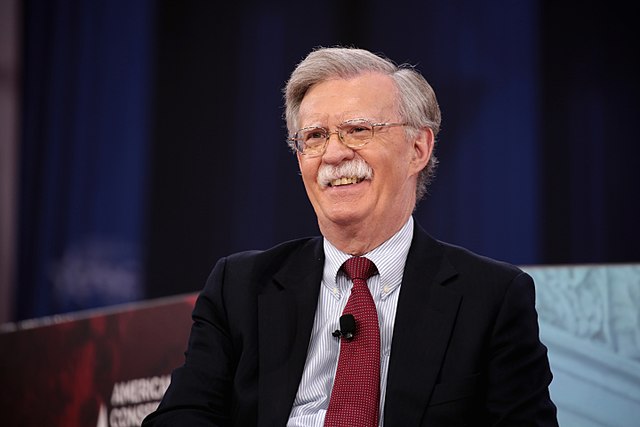 It appears that President Trump following in saboteur John Bolton's footsteps and threatening to give Kim Jong-un the Gaddafi treatment was not the wisest of decisions.

From Fox News:

President Trump on Tuesday suggested the historic summit between the U.S. and North Korean dictator Kim Jong Un "may not work out" for the scheduled date of June 12 in Singapore, amid threats from the rogue regime to cancel talks after U.S.-South Korean military exercises.

The president's comments came during an Oval Office meeting with visiting South Korean President Moon Jae-in. The two leaders discussed a strategy for denuclearization of the Korean Peninsula, and Trump's potential upcoming summit with Kim.

"If it doesn't happen, maybe it will happen later. You never know about deals. I've made a lot of deals, you never really know," Trump said about the summit. "It may not work out for June 12."

Last week, North Korea cancelled a high-level summit with South Korea, and threatened to cancel the meeting with Trump following U.S.-South Korean military exercises, which the rogue regime's media outlet suggested were a rehearsal for a potential invasion of the North.

Trump added: "You'll know soon."

Despite a potential delay in the summit, Moon expressed confidence, noting they are "one step closer" to a denuclearized Korean Peninsula, saying that he believes Kim is "serious" about the talks.
Allow me to remind you of North Korea's initial statement issued in response to saboteur John Bolton's deliberately inflammatory comments about using "the Libya model" for North Korea.

High-ranking officials of the White House and the Department of State including Bolton, White House national security adviser, are letting loose the assertions of so-called Libya mode of nuclear abandonment, "complete, verifiable and irreversible denuclearization", "total decommissioning of nuclear weapons, missiles, biochemical weapons". etc, while talking about formula of "abandoning nuclear weapons first, compensating afterwards".

This is not an expression of intention to address the issue through dialogue.

[...] It is absolutely absurd to dare compare the DPRK, a nuclear weapon state, to Libya which had been at the initial stage of nuclear development.

We shed light on the quality of Bolton already in the past, and we do not hide our feeling of repugnance towards him.

If the Trump administration fails to recall the lessons learned from the past when the DPRK-U.S. talks had to undergo twists and setbacks owing to the likes of Bolton and turns its ear to the advice of quasi-"patriots" who insist on Libya mode and the like, prospects of upcoming DPRK-U.S. summit and overall DPRK-U.S. relations will be crystal clear.

We have already stated our intention for denuclearization of the Korean peninsula and made clear on several occasions that precondition for denuclearization is to put an end to anti-DPRK hostile policy and nuclear threats and blackmail of the United States.
Trump strangely echoed Bolton's statements while simultaneously trying to distance himself from them on Thursday.



"The model, if you look at that model with Gaddafi, that was a total decimation. We went in there to beat him. Now that model would take place if we don't make a deal, most likely. But if we make a deal, I think Kim Jong-un is going to be very, very happy," Trump said.

"This with Kim Jong-un would be something where he would be there. He would be running his country. His country would be very rich," the president said.

John Bolton has sabotaged peace talks with North Korea in the past and it appears he's succeeding in doing it again.

Trump should know you can never trust a neocon.

Follow InformationLiberation on Twitter, Facebook and Gab.