Donald Trump To Kim Jong-un: Make A Deal Or Suffer Same Fate As Gaddafi
Chris Menahan
InformationLiberation
May. 20, 2018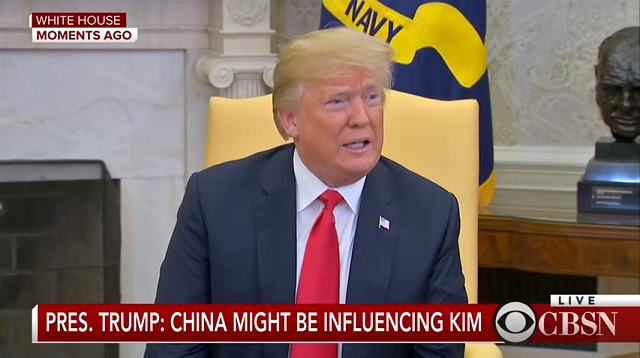 Saboteur John Bolton is no doubt rejoicing over this.

From The Guardian:

Donald Trump has threatened Kim Jong-un with the same fate as Muammar Gaddafi if the North Korean leader "doesn't make a deal" on his nuclear weapons programme.

The US president issued the threat at the White House when he was asked about the recent suggestion by his national security adviser, John Bolton, that the "Libyan model" be a template for dealing with North Korea at a summit between Trump and Kim planned for 12 June in Singapore.

The model Bolton was referring to was Gaddafi's agreement in December 2003 to surrender his embryonic nuclear weapons programme, which included allowing his uranium centrifuges to be shipped out to the US.
But Trump appeared to be unaware of that agreement, and interpreted the "Libyan model" to mean the 2011 Nato intervention in Libya in support of an insurrection, which ultimately led to Gaddafi's murder at the hands of rebels in Tripoli.

"The model, if you look at that model with Gaddafi, that was a total decimation. We went in there to beat him. Now that model would take place if we don't make a deal, most likely. But if we make a deal, I think Kim Jong-un is going to be very, very happy," Trump said, suggesting that the regime's survival could be assured if Kim agreed to disarm.

"This with Kim Jong-un would be something where he would be there. He would be running his country. His country would be very rich," the president said.

"We're willing to do a lot, and he's willing ... to do a lot also, and I think we'll actually have a good relationship, assuming we have the meeting and assuming something comes of it. And he'll get protections that will be very strong."
There was no "misunderstanding."

Kim Jong-un has said repeatedly he has no desire to meet the same fate as Gaddafi, Bolton drew the comparison to sabotage the deal. Trump's White House backed off the Bolton comparison at first last Wednesday leaving a sliver of hope but then Trump went and said this the day after.

Perhaps this is 4D interdimensional space chess, but it seems more likely John Bolton's once again succeeding in sabotaging any sort of peace deal with North Korea.

Follow InformationLiberation on Twitter, Facebook and Gab.