Lou Dobbs: FBI, DOJ 'Riddled With Corruption,' 'People Have to Go to Jail!'
Chris Menahan
InformationLiberation
Dec. 15, 2017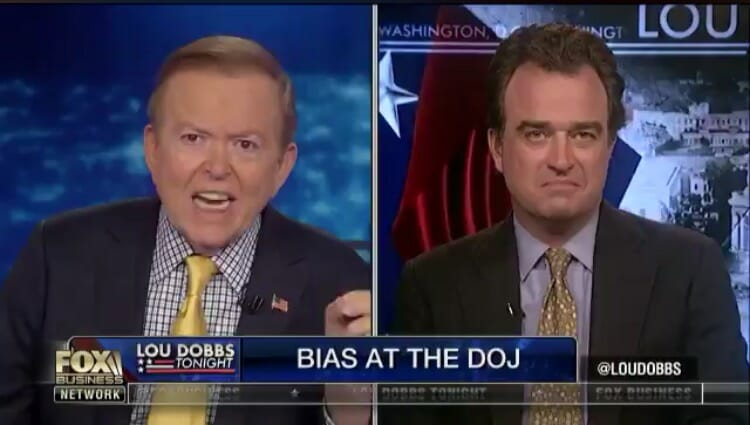 Lou Dobbs said Thursday on Fox Business that crooked officials at the Department of Justice and the Federal Bureau of Investigation "have to go to jail" for plotting to undermine President Trump.

From The Gateway Pundit:

"We have a Justice Department that is just rancid and an FBI that is riddled with corruption," Dobbs said.

"This is not something that is going to go away; this has to be rooted out. People have to go to jail and I think we have seen a number of them appear before Congress. This is disgusting!" Dobbs continued.


Breitbart's Charlie Hurt agreed with Lou Dobbs, saying this is the most sinister and corrupt Deep State that anyone could ever imagine.

"If very high level people don't go to prison for this then there is absolutely no justice," Charlie said.

"The president has a way forward here that I believe leads to truth and I believe that may lead to justice. He should order his Attorney General to turn over every damn document that the Judiciary Committee has asked for and give it to oversight Committee…" Dobbs said.
There's more than enough evidence to bring charges against Comey and Brennan. They openly plotted a coup to overthrow Trump and get Flynn thrown into prison. The most rudimentary investigation could prove this beyond a shadow of a doubt.

Obama's former AG Eric Holder issued a threat Thursday saying, "any attempt to remove Bob Mueller will not be tolerated."


He knows he's next if these crooks go down.

Follow InformationLiberation on Twitter, Facebook and Gab.