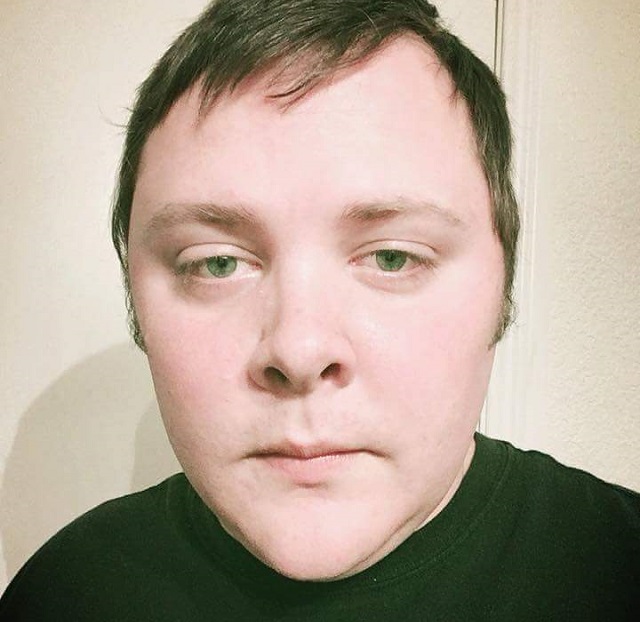 The left really wants this to be a gun control debate.

From Heavy:

Devin P. Kelley, who was court martialed from the U.S. Air Force, was identified as the gunman who walked into the First Baptist Church in Sutherland Springs, Texas, on Sunday morning and murdered at least 26 people, wounding many more in the tiny, rural community near San Antonio.

The shooter's name was reported through sources by The New York Times and CBS News; the latter gave his name as Devin Patrick Kelley, 26, of New Braunfels, Texas and said the Air Force court martial occurred only three years ago. Although the motive was not yet clear, the gunman's background includes religious school work, but he also liked pages devoted to atheism. The shooter, who is dead, left behind disturbing social media posts, including a Facebook page that showed off a rifle, calling it a "bad b*tch."


Authorities revealed that a heroic and unidentified citizen in the church "grabbed his rifle and confronted the suspect," who was armed with a "Ruger AR assault type rifle." The local citizen pursued the suspect, who ran off the road and crashed and was found deceased in his vehicle. "We don't know if it was a self inflicted gunshot wound or if he was shot by our local resident who engaged him with gunfire," authorities said. It was the largest mass shooting in Texas history.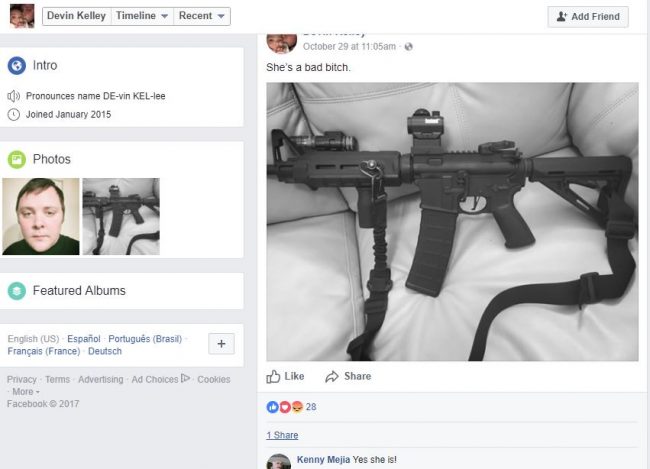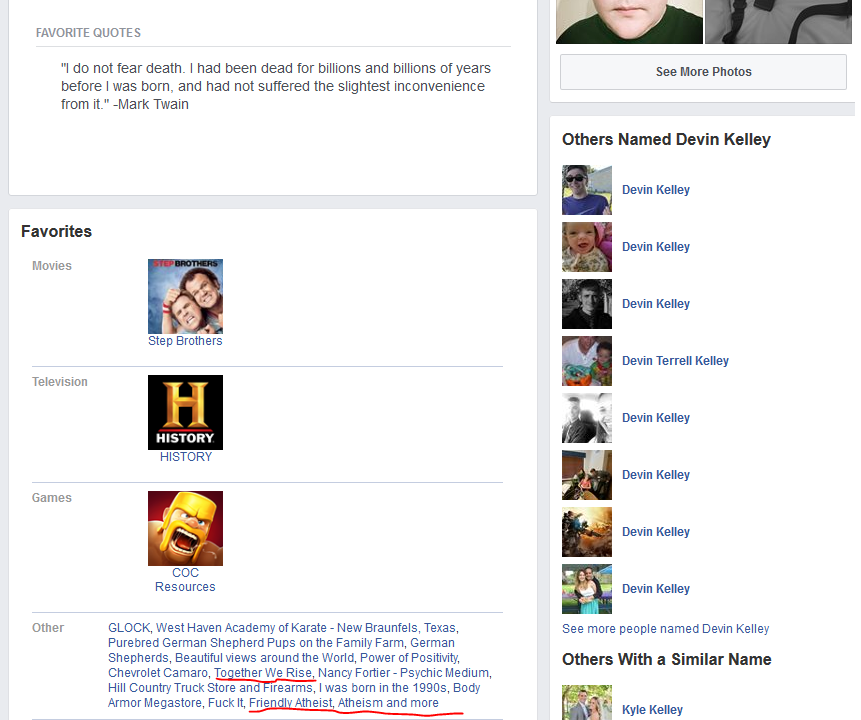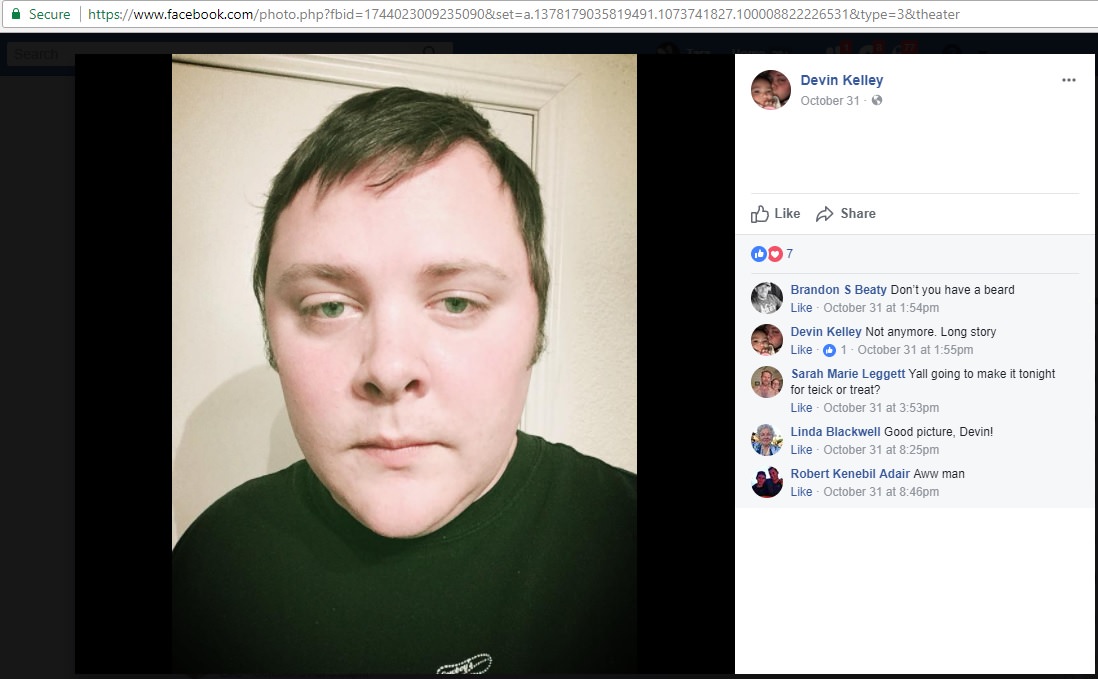 The horrific mass shooting wounded almost everyone inside the small country church building, which held only about 50 people in the town of only a few hundred people. The victims ranged in age from 5 to 72, authorities said. "This will be a long suffering mourning for those in pain," said Governor Greg Abbott, confirming that 26 people had died. Authorities would not confirm the suspect's name, and they said they were investigating, but could not confirm, reports of possible militia ties. However, Heavy has learned that the shooter's wife says on Facebook that she is from Sutherland Springs, and her mother has been pictured in photos at the Baptist church.

[...]Kelley's LinkedIn page says, under the entry for U.S. Air Force, "Cargo, demand and supply , distribution." He added, "Basic learning on my contracted job." The page says he attended New Braunfels High School from 2003 to 2009, receiving his diploma. His LinkedIn page also says, "I am a hard working dedicated person. I live by he (sic) core values on which the Air Force go by." He identified himself as a "management consulting professional" and said he was CPR certified.



However, CBS News reported that the suspect is former "US Air Force E1 (2010-2014). He received a dishonorable discharge. He was court martialed in May 2014." The network also wrote, "Kelley is a former U.S. Air Force member who served from 2010 to 2014. He was dishonorably discharged and court martialed in May 2014."
Peter J. Hasson from The Daily Caller says it's against federal law to sell firearms to those who are dishonorably discharged:


Regardless, the problem with calling for gun control after a shooting like this is it's calling for law-abiding citizens to be disarmed, which will leave them at the mercy of criminals like this.



Tons of people have guns in Switzerland and they don't go around carrying out mass shootings.

This shooter has the SSRI stare:



Here's a older picture where he seems high: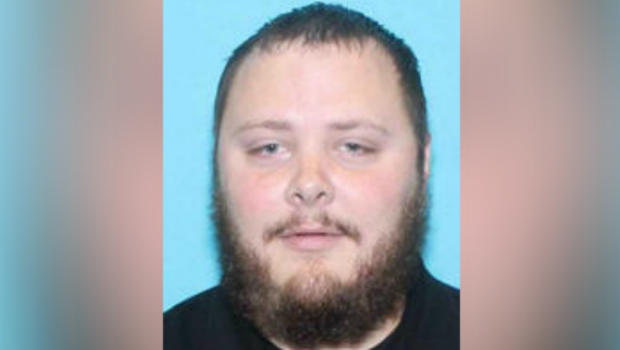 It's not dated, but he doesn't have quite the same blank look on his face.

Here's another older picture, seemingly older than the former as he looks skinnier and younger: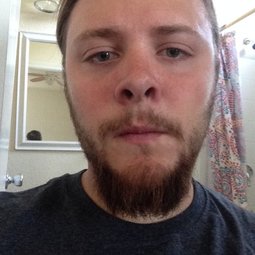 If the Democrats weren't in the pockets of big pharma, they'd call for common sense SSRI control after these shootings rather than gun control.

Here's some real issues for debate:

1. SSRIs and their link to mass shootings.
2. Our culture of nihilism created by Hollywood sickos like Harvey Weinstein. There's also evidence this guy was an "enlightened by my own intelligence" atheist who loved Richard Dawkins' "The God Delusion."
3. The destruction of any sense of community due to our "diversity lottery" immigration policies.

This is what's driving these mass shootings, not guns.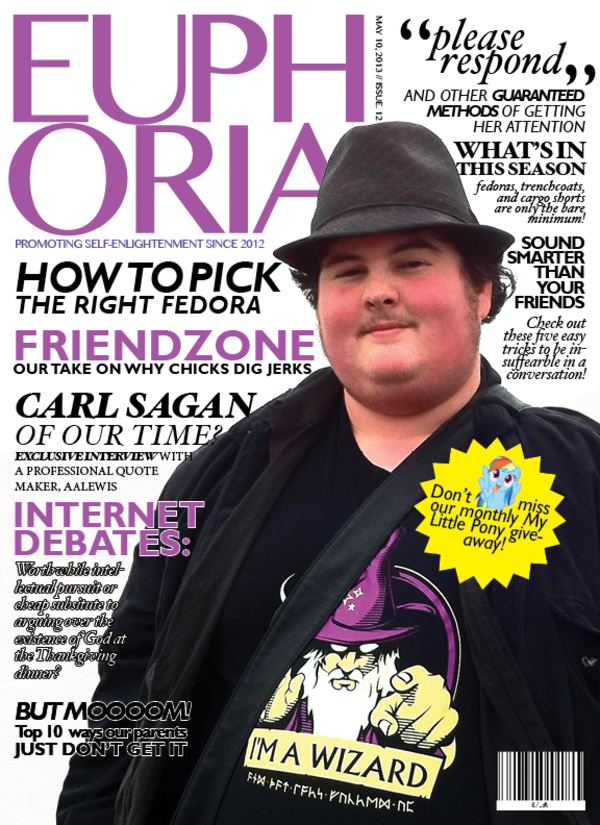 Here's a screenshot showing what some are claiming is a discussion between Kelley and another person on atheism. Kelley's Facebook account was swiftly deleted after the shooting, so his side is missing from the discussion.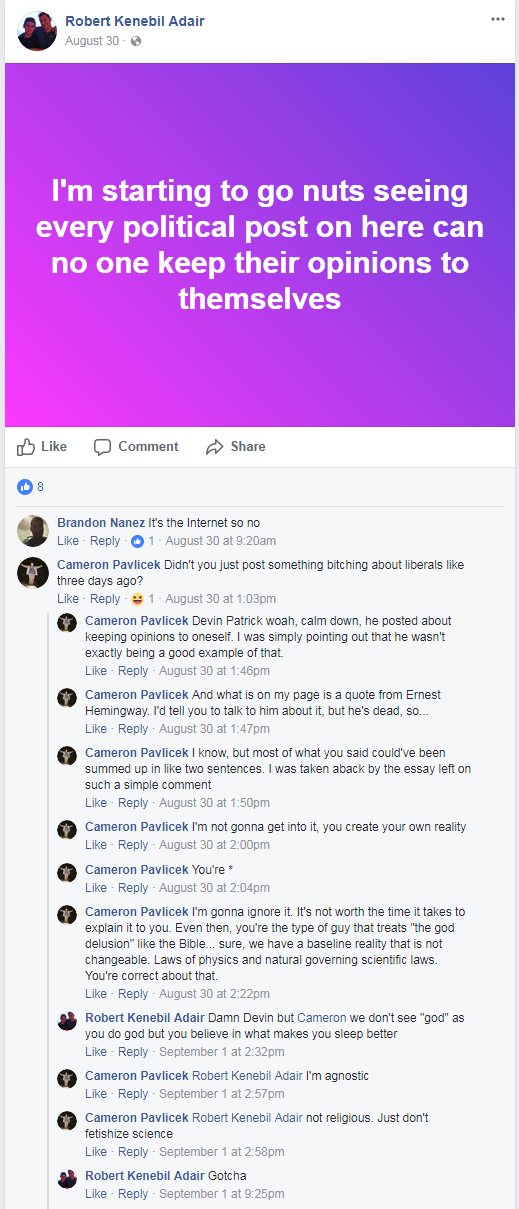 The SSRI connection doesn't need to be rehashed.

The nihilism is everywhere. Modernity destroyed the church, belief in god and general purpose to life. Most Westerners are materialists. Hollywood pushes depravity and social degeneration. Violence is glorified endlessly.

These are real issues we should be debating. Instead, the left just wants to whine about gun control and claim banning guns is a magic wand that will solve all our social ills.

Follow InformationLiberation on Twitter, Facebook and Gab.