Obama Moves to Undermine Trump Presidency After Only 10 Days
Chris Menahan
InformationLiberation
Jan. 30, 2017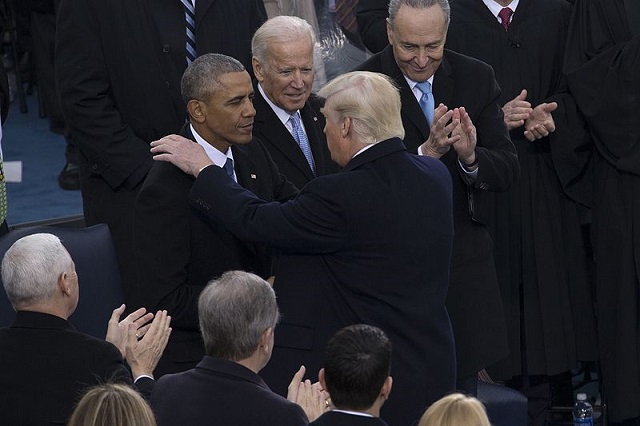 Even though Bush made no effort to interfere with Obama's presidency, Obama has moved to undermine Donald Trump's presidency after only 10 days in office.

President Obama issued the following statement attacking Trump this afternoon through his spokesman Kevin Lewis:

President Obama is heartened by the level of engagement taking place in communities around the country. In his final official speech as President, he spoke about the important role of citizens and how all Americans have a responsibility to be the guardians of our democracy — not just during an election but every day.

Citizens exercising their Constitutional right to assemble, organize and have their voices heard by their elected officials is exactly what we expect to see when American values are at stake.

With regard to comparisons to President Obama's foreign policy decisions, as we've hard before, the President fundamentally disagrees with the notion of discriminating against individuals because of their faith.
President Trump's travel ban is not a Muslim ban and does not "discriminate against individuals because of their faith."

Obama knows this, that's why he simply used vague language to imply it.



Do your paid protesters have a "constitutional right" to smash Trump supporters over the head with metal objects? Because that's what they're doing.



You undermined real American values for eight years straight, that's why we voted to restore these values by electing President Donald Trump.

While President Trump restricted travel from seven countries you labeled as dangerous, you bombed 5 out of the 7 and actively killed people in those nations, including innocent civilians.

You don't have the moral high ground.

President Trump is trying to protect America from the refujihadists you helped flood this nation with who are going on stabbing sprees left and right.

This election was a repudiation of everything you believe in. Take a clue from former president Bush and shut the hell up and get out of our politics.

Follow InformationLiberation on Twitter and Facebook.