SHOCK VIDEO: Trump Supporter Knocked Out With 'Metal Object' As Leftist Protesters Cheer
Chris Menahan
InformationLiberation
Jan. 30, 2017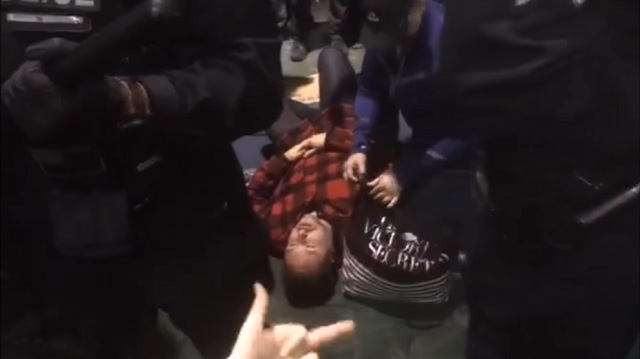 Shocking video shows anti-Trump rioters viciously assault a Trump-supporting counter-demonstrator at Portland International Airport on Sunday.

The rioters reportedly hit the man over the head with "something metallic," causing him to be knocked out.

As Oregon Live reports:

Grant Chisholm, 39 of Portland told The Oregonian/Oregonlive that he was at the airport with three other members of the group Bible Believers for a counter protest when a Trump opponent hit him in the head three times with something metallic. Chisholm dropped and drifted in and out of unconsciousness, he said, while vomiting as other protesters kicked him in the head.

"They almost killed me tonight," Chisholm said.
WATCH:



The video shows demon-possessed rioters screaming "you got knocked out!" and "Nazi scum!" throughout.

"That's how you talk to a Nazi," one man can be heard screaming.

"You got knocked out, b*tch," another man who appeared to be frothing at the mouth says. "That's right!"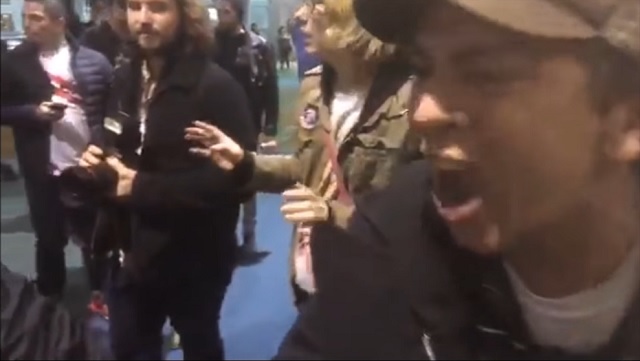 This man is seen cheering the use of political violence against those with whom he disagrees.


Despite the "anti-fascist" rioters attempting to murder a man by smashing him over the head with a metallic object because they disagree with his beliefs, The Oregonian reports no arrests were made.

This was an act of domestic terrorism.





When combined with the recent attacks on Richard Spencer, it's clear this is now a trend fully embraced and celebrated by the new left.

It's noteworthy there was speculation Richard Spencer's attacker also used a wrench:


Comedian Patton Oswald and other leftists celebrated the attack on Spencer and called for people to be assaulted for their political beliefs.

Actor David Harbour called for similar violence at last night's SAG Awards and was cheered by Hollywood's elite:



Their calls for violence have now materialized with another Trump supporter almost being killed.

These "anti-fascist" terrorists need to be prosecuted to the fullest extent of the law.

Follow InformationLiberation on Twitter and Facebook.