White Student Wearing 'Make America Great Again' Hat Beaten by 4 Black Teens at Anti-Trump Protest
Chris Menahan
InformationLiberation
Nov. 16, 2016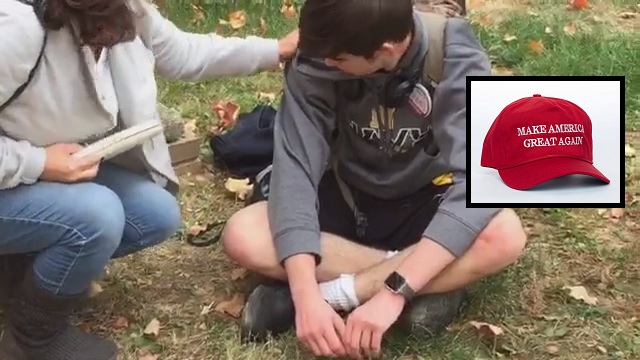 A white 15-year-old student was reportedly attacked by four African-American teenagers for wearing a "Make America Great Again" hat at an anti-Trump protest Wednesday in Rockville, Maryland.

While live video taken from a WUSA9 reporter at the scene shows the parent of a student at Richard Montgomery High School saying the boy was attacked by "four black guys," WUSA9's editors didn't feel that was noteworthy to include in their write up.

While the media is obsessing over baseless Facebook rumors and "hate crimes" which were admitted to be fake, real stories like this one where Trump supporters are violently attacked are being downplayed and ignored.

From WUSA9:

ROCKVILLE, MD. (WUSA9) - During the third straight day of student protests against the presidential election results in Montgomery County, several students beat up at 15-year-old who was wearing a Donald Trump "Make America Great Again" hat.

Police said they have a suspect in custody who is facing a second-degree assault charge.

It happened during Richard Montgomery High School's anti-Trump walk-out and protest.


The student was found with scraps on his knee and he told police he hit his head. The young man walked himself to an ambulance. Police said he went to a hospital to get checked out.

It's not clear who instigated the fight, but there was an apparent verbal altercation first. Three adults said they saw multiple students punch and kick the 15-year-old boy.

"A hand went up and then all four jumped on top of him and that's when I ran over to try and stand over him," said Veronica Vaca, a parent who came to monitor the protest in support of her daughter.
You can see the real scoop in this live report from WUSA9's Stephanie Ramirez which wasn't sanitized to suit the lying media's narratives.


[Skip to 4:40]

There has been an endless series of hate crimes directed at Trump supporters in the week since his election.

A 49-year-old white man was pulled from his car and beaten in the street by a mob in Chicago while onlookers shouted "you voted Trump" and told him "you gonna pay for that sh*t."





A white high school girl in California was brutally attacked by an African-American girl for writing messages in support of Trump on Instagram.



An 11-year-old boy was attacked at school for voting for Trump in a mock election.



Today, we also learned of another hate crime where a white man wearing a "Make America Great Again" hat in Brooklyn was violently jumped by thugs who called him a "white Trump supporter."



There has unquestionably been a surge in hate crimes since President Donald Trump's election and his supporters have been the majority of the victims.

Follow InformationLiberation on Twitter and Facebook.