11-Yr-Old Boy Attacked at School & Put in Crutches for Voting Trump in Mock Election
Chris Menahan
InformationLiberation
Nov. 10, 2016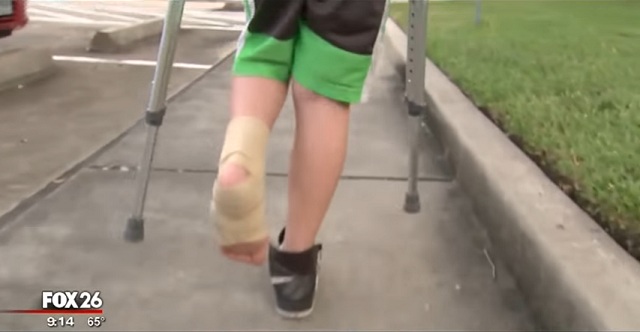 An 11-year-old elementary school student was violently attacked at school after telling classmates he voted for Donald Trump in the school's mock election.

How many cases like this are the national media going to ignore?

From FOX 26 Houston:

STAFFORD, Texas (FOX 26) - A student at Stafford Elementary is recovering Wednesday after being beaten by several of his classmates.

He says it was during a mock election when the class was asked, "Who voted for Donald Trump?"
..."These boys decided to ask the classroom, 'Who voted for Donald Trump?' And then I said, 'I did.' And then they come over here and jerked me out of my seat," said the student. "Before I could get up they started kicking me and punching me."

The student's name was protected by request of his parents. But he told us the classroom did have a teacher present. He said when he was on the ground, it "felt like it was forever".

"We have not really gotten a clear explanation of how long this went on and why did it take so long for it to be stopped?" said his father Buddy Lemmon.
According to the 2010 census, Stafford is a majority-minority city where whites make up only 36% of the population.

While the lying media is busy hyperventilating over the fact illegal aliens will have to go back to the countries from whence they came, Trump supporters are being assaulted left and right and they don't even bat an eye.

All this is going to change when President-elect Donald Trump finally ascends to the throne.


Follow InformationLiberation on Twitter and Facebook.