SHOCK VIDEO: Mob Beats Trump Supporter, 'You Voted Trump! You Gonna Pay For That Sh*t!'
Shock video shows mob beat Trump supporter, steal his car and drag him through street.
Chris Menahan
InformationLiberation
Nov. 10, 2016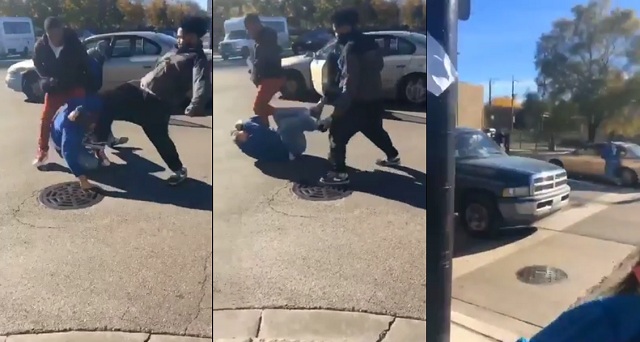 Shock video out of Chicago shows a mob of African-American youth beat a white Trump supporter because he "voted Trump," telling him "you gonna pay for that sh*t."

The mob is seen robbing the man of his belongings, stealing his car and then dragging him through the street while his hand is stuck in the window of his own vehicle.

YouTube incredibly deleted evidence of this hate crime, fortunately it was saved and uploaded to other sites.

In this first version which contains audio, you can hear the criminal assailants screaming "you voted Donald Trump" while multiple thugs are seen savagely beating the man from every which angle.

"You voted Trump," the mob can be heard screaming. "You gonna pay for that sh*t."

"Beat his ass," a woman shouts. "Don't vote Trump," another man says while laughing.


[Mirrors]

This second video, which goes longer but has the "F**k Donald Trump" rap song playing over the audio track, shows one of the assailants entering the man's car and then driving away while the man's hand is stuck after reaching into the back window of his vehicle.

The scene is frankly reminiscent of a lynching.

Update: Chicago police spokeswoman Officer Nicole Trainor says police are aware of the incident and investigating.

Update II: From CBS Chicago:

Police said a 50-year-old man was attacked and beaten by three males and two females at the intersection of Roosevelt Road and Kedzie Avenue. One of the attackers stole his car and fled the scene, according to police."

...Chicago police said the victim was taken to Mount Sinai Hospital in good condition.

No one was in custody Thursday morning. Area North detectives were investigating.
Follow InformationLiberation on Twitter and Facebook.