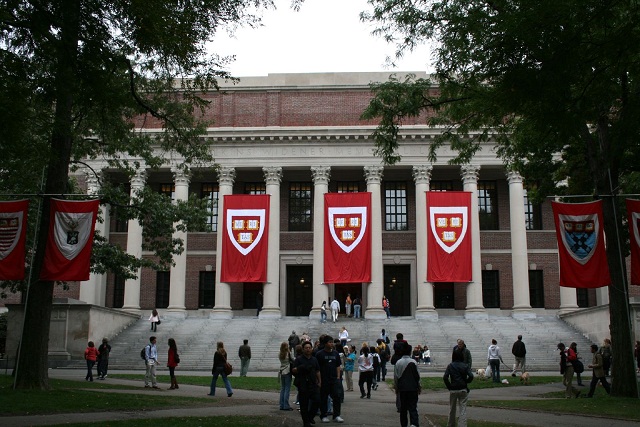 The Dean of Harvard, Rakesh Khurana, called for an "official Harvard University Police Department investigation" after a pro-Trump email warning of "white genocide" was sent to students of the school.

From The Crimson:

The College has requested Harvard police investigate an email sent to some undergraduates urging them to stop "white genocide" and vote for Republican presidential nominee Donald J. Trump.

The email, sent Sunday with the subject line "Fight White Genocide - Vote Trump!," claims that "third-world non-Whites" are flooding countries like the United States, and that white people should advocate against diversity. The email concludes with a plea for recipients to vote for Trump, who, the email argues, is the only candidate capable of understanding issues facing white people.

Dean of the College Rakesh Khurana said the College has called for an official Harvard University Police Department investigation into the email. As of Monday night, the College had not received any reports of incidents of bias regarding the email.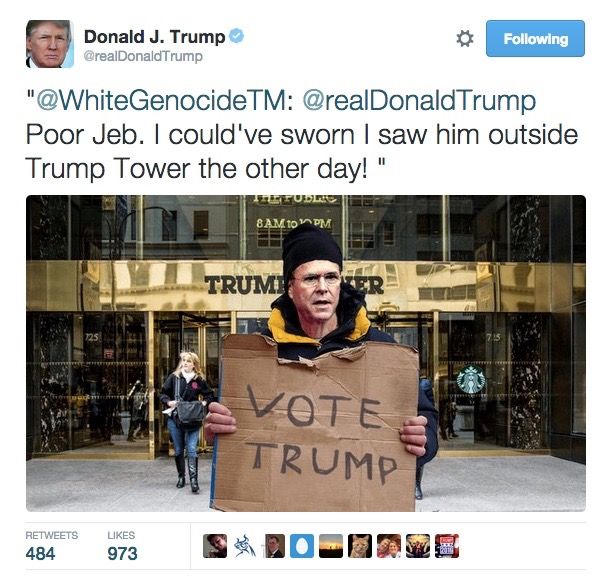 Donald Trump once retweeted a user named "WhiteGenocideTM."
HUPD spokesperson Steven G. Catalano did not respond to requests for comment on whether the police indeed were investigating.

The email was sent to several student leaders, including House Committee chairs and representatives of the Harvard Democrats and the Harvard Republicans.

The email was signed by Educators and Students Against White Genocide, a website that seeks to organize students to oppose diversity in America. According to the group's website, a similar email was sent to University of West Virginia students and to the West Virginia state legislature.

In a Sept. 22 blog post on its website, the group called for students and staff with access to email addresses of Harvard, Yale, and Princeton affiliates. The post includes a photo of Harvard's Matthews Hall, a freshman dormitory.

Students who received the email said they were largely not offended, though they were confused. The College emails of many students who received the message are publicly available on the Internet.
Below is the full text of the email from what appears to be the group's website.

They say the emails were sent under the subjects "Vote against 'NO CHILD LEFT WHITE' – Vote TRUMP" and "Ask Donald Trump to endow a 'Donald J. Trump Chair of White Genocide Studies.'":

Fight White Genocide – Vote Trump! Asia for the Asians, Africa for the Africans, White countries for EVERYBODY?

ALL White countries and ONLY White countries are being flooded with third world non-Whites, and Whites are forced by law to integrate with them so as to "assimilate," i.e. intermarry and be blended out of existence.

Massive immigration and forced assimilation is called genocide when it's done in Tibet.

When it's done in White countries it's called "diversity."

Diversity is a code word for White Genocide.

No school, no organization, no town, no country is allowed to be White.

"Diversity" means chasing down Whites.

Harvard teaches White students that they are immoral and contemptible if they don't support White Genocide.

Your professors will never say to you, "White self-hatred is SICK!!!"

Your professors say they're anti-racist. What they are is anti-White.

Anti-racist is a code word for anti-White.

We believe Donald Trump understands: "Diversity" means chasing down the last White person. – Vote for TRUMP! –

Thank you!

Educators and Students Against White Genocide

(For more on White Genocide, google "About White Genocide" at White GeNOcide Project)

[Emphasis in original]
Absolutely nothing in the email is advocating for violence, crimes to be committed, nor anything which could possibly be perceived as illegal.

Nonetheless, the Dean of Harvard was so triggered by the email he asked police to waste their time with an "investigation."

Perhaps one of the many professors at Harvard could explain to him the workings of the First Amendment.

Follow InformationLiberation on Twitter and Facebook.