UPDATE: THE FIX IS IN: Green Party Commie Wins Austrian Election, Far-Right Loses Despite Lead

Austria may have just elected their own Trump.

Note, there's a record estimated 750,000 postal ballots yet to be counted, FPO's Nurbert Hofer is currently leading by 144,006 votes and the odds are in his favor.

From RT:

Eurosceptic, anti-immigration Freedom Party candidate Norbert Hofer won Austria's Presidential election with 51.9 percent of the vote, official data from the Ministry of the Interior states. The figures could change when postal ballots are counted.

The Ministry states that Green Party candidate Alexander van der Bellen garnered only 48.1 percent of the ballots cast.

The Greens campaign for the rights of minorities and socio-ecological tax reform, as well as ecological issues such as environmental protection, with their Charter of 2001 stating "direct democracy, nonviolence, ecology, solidarity, feminism and self-determination" as their basic values. Van der Bellen led the party between 1997 and 2008, the years when the Greens firmly established themselves as the country's fourth biggest political player.


Austria's national broadcaster, ORF, had reported earlier that exit polls showed 50 percent support for each candidate.



The country will have to wait until Monday evening for the final results, according to ORF, citing Norbert Hofer.

"We will have to wait until tomorrow," Hofer told the broadcaster, as the count of postal ballots that will determine the winner is not due to finish until Monday evening.

As for candidates from the traditionally powerful centrist coalition parties (Social Democratic SPO and Conservative OVP), they were thrown out of the presidential race in the first round of the election, held in April.



Back then, FPO's Hofer surprised the global community by winning around 36 percent of the vote, followed by the Green Party's Alexander Van der Bellen with some 20 percent. Despite Hofer's success in outrunning his rivals, he failed to secure a majority and so the second round of the election had to be held.

If official results prove the current figures, Hofer will become the first right-wing head of state on the European continent since World War II.

The prospect of Hofer's victory has shocked European political establishments long before the runoffs.

Senior European officials like Martin Schulz, the president of the European Parliament, have issued warnings that "Europe's character will be changed" if the FPO wins the post.

Despite the presidency being a largely ceremonial post in Austria, the head of state has one key power – to dismiss the government and usher in a chancellor from his own party, which is currently leading in the polls, and the newly elected president has already threatened to do so.

"You will be surprised what can be done [by a president]," Hofer said in a recent TV debate. Thus Hofer's victory could be the springboard for his party's success in the next parliamentary elections to be held in 2018.

Hofer and the FPO's nationalist appeal to put "Austria first," paired by strong opposition to "forced multiculturalism, globalization and mass immigration" secured the candidate increasing support because of deepening frustration with the ruling parties and how they are dealing with the migrant crisis that's engulfed Europe.

"I'm not a dangerous person, of course. But those people […] who don't appreciate our country, who go to war for the Islamic State or rape women – I say to those people: This is not your home! You can't stay in Austria. Because we differentiate very clearly between those who continue to build up Austria together with us and those who only care about destroying this country. We have to make this differentiation," Hofer said in a recent election rally.

Last year some 90,000 people claimed asylum in Austria, more than 1 percent of the country's 8.6 million population.

Hofer has also shocked the public, carrying a Glock gun openly to rallies, defending this as a "natural consequence" of immigration.



Hofer at the gun range.


This is epic, folks.

The New York Times said if Hofer wins this is "the first far-right politician to be elected head of state in Europe since 1945."

Over 70 years of left-wing sabotage and guilt-ridden self-destruction is finally coming to an end.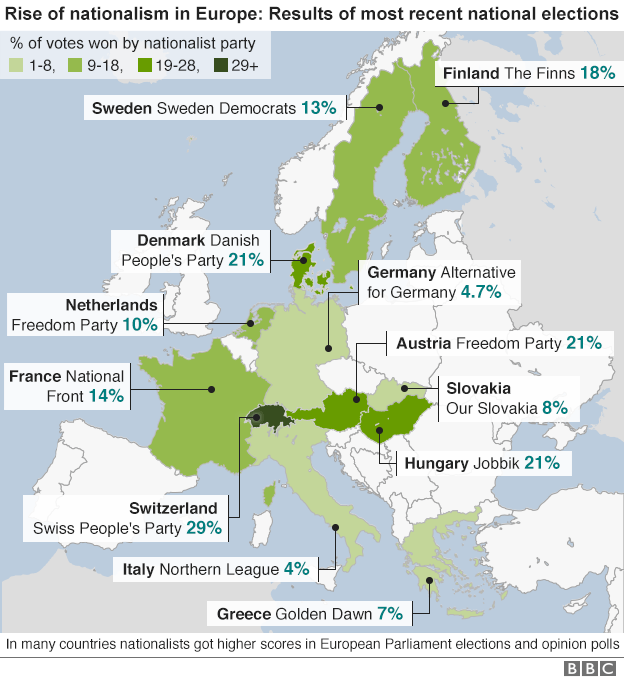 Follow InformationLiberation on Twitter and Facebook.