'We Need to Stop This Whiny Behavior. We Need to Win The War': Netanyahu 'Used Plant to Influence Families of Kidnapped Israelis'
Chris Menahan
InformationLiberation
Oct. 30, 2023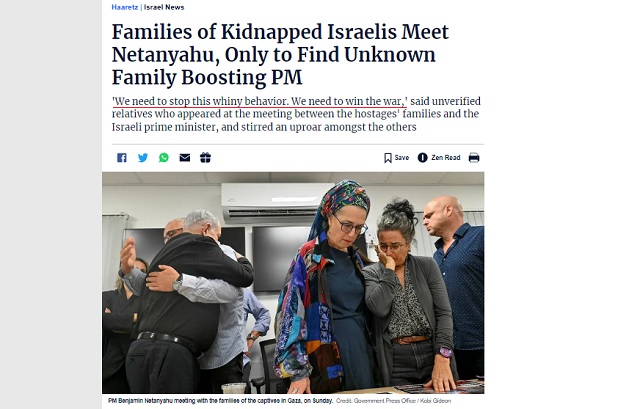 Israeli Prime Minister Benjamin Netanyahu has been accused of planting unverified, fake relatives in a meeting with the families of hostages taken by Hamas to tell them "we need to stop this whiny behavior" because "we need to win this war."


From Haaretz, "Families of Kidnapped Israelis Meet Netanyahu, Only to Find Unknown Family Boosting PM":

Israeli Prime Minister Benjamin Netanyahu met on Sunday [Oct 15] with representatives of the families whose members are being held hostage by Hamas in the Gaza Strip.

Israel's coordinator for hostages and missing persons, Brigadier General (res.) Gal Hirsch, chief of staff at the Prime Minister's Office Tzahi Braverman and Netanyahu's media adviser Topaz Luk have also attended the meeting.

Representatives of five families were present at the meeting that was coordinated between the Prime Minister's Office and the Families' Headquarters for Captives and Missing People (hereafter: the Families' Headquarters). During the meeting, however, members of another family, unknown to the headquarters' personnel, had unexpectedly joined the discussion. According to sources, the unknown family's claims spurred an uproar in the room.

[...] According to Journalist Ben Caspit, one of the four family members said during the meeting that he loves his daughter "no less than the rest of you love your own family members. But at the end we have to look at the people of Israel and the future of our existence here." The family member then told Netanyahu to "act coolly and decisively." His claims caused a scene and were criticized by the representatives of other families.

[...] Journalist Jacky Levi and his partner, whose five family members were abducted to Gaza, said last night in an interview that Netanyahu tried to create a divide between the families. "There's a deliberate intention here, we are sure of that, no one knew him," Levi said of one of the four family members who unexpectedly joined the meeting. "We're looking into who he is and who he represents, because it cannot be that he just showed up out of nowhere to a meeting with the prime minister."

Tzvika Mor, whose son Eitan has been missing since the attack, said on Monday in an interview with Kol Barama Radio Station that he was the one who participated in the meeting. "I want to debunk the lie that we arrived out of nowhere, it's a lie."
Netanyahu's office denied having "any prior knowledge" of the alleged plants and said, as paraphrased by Haaretz, the family was let in after arriving at the meeting "without any coordination" "due to the sensitivity of this issue."

No doubt a random "family" off the street got wind of the meeting and joined to tell the families to quit their whining and get behind the war!

Follow InformationLiberation on Twitter, Facebook, Gab, Minds and Telegram.