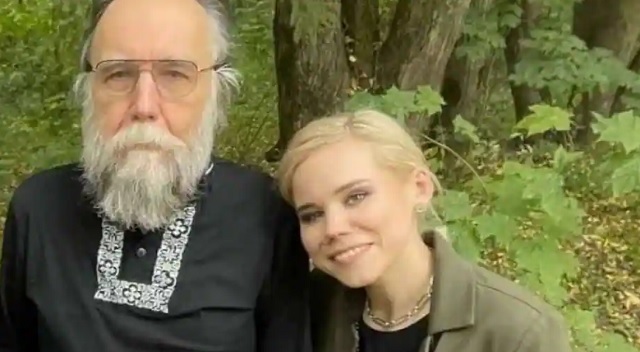 Ukraine's domestic security service (SBU) has been receiving clandestine training from the CIA for eight years and used said training to assassinate Darya Dugina, the daughter of Russian intellectual Alexander Dugin, the Washington Post reports.

SBU sources boasted about the assassination -- which they previously denounced as terrorism -- and said they did it to advance a "narrative" that no one is safe inside of Russia.

From The Washington Post, "Ukrainian spies with deep ties to CIA wage shadow war against Russia":

The cluttered car carrying a mother and her 12-year-old daughter seemed barely worth the attention of Russian security officials as it approached a border checkpoint. But the least conspicuous piece of luggage -- a crate for a cat -- was part of an elaborate, lethal plot. Ukrainian operatives had installed a hidden compartment in the pet carrier, according to security officials with knowledge of the operation, and used it to conceal components of a bomb.

Four weeks later, the device detonated just outside Moscow in an SUV being driven by the daughter of a Russian nationalist who had urged his country to "kill, kill, kill" Ukrainians, an explosion signaling that the heart of Russia would not be spared the carnage of war.

The operation was orchestrated by Ukraine's domestic security service, the SBU, according to officials who provided details, including the use of the pet crate, that have not been previously disclosed. The August 2022 attack is part of a raging shadow war in which Ukraine's spy services have also twice bombed the bridge connecting Russia to occupied Crimea, piloted drones into the roof of the Kremlin and blown holes in the hulls of Russian naval vessels in the Black Sea.

These operations have been cast as extreme measures Ukraine was forced to adopt in response to Russia's invasion last year. In reality, they represent capabilities that Ukraine's spy agencies have developed over nearly a decade -- since Russia first seized Ukrainian territory in 2014 -- a period during which the services also forged deep new bonds with the CIA.

The missions have involved elite teams of Ukrainian operatives drawn from directorates that were formed, trained and equipped in close partnership with the CIA, according to current and former Ukrainian and U.S. officials. Since 2015, the CIA has spent tens of millions of dollars to transform Ukraine's Soviet-formed services into potent allies against Moscow, officials said. The agency has provided Ukraine with advanced surveillance systems, trained recruits at sites in Ukraine as well as the United States, built new headquarters for departments in Ukraine's military intelligence agency, and shared intelligence on a scale that would have been unimaginable before Russia illegally annexed Crimea and fomented a separatist war in eastern Ukraine. The CIA maintains a significant presence in Kyiv, officials said.

The extent of the CIA's involvement with Ukraine's security services has not previously been disclosed. U.S. intelligence officials stressed that the agency has had no involvement in targeted killing operations by Ukrainian agencies, and that its work has focused on bolstering those services' abilities to gather intelligence on a dangerous adversary. A senior intelligence official said that "any potential operational concerns have been conveyed clearly to the Ukrainian services."
The CIA is against the assassinations they trained them and armed them to conduct.

Many of Ukraine's clandestine operations have had clear military objectives and contributed to the country's defense. The car bombing that killed Daria Dugina, however, underscored Ukraine's embrace of what officials in Kyiv refer to as "liquidations" as a weapon of war. Over the past 20 months, the SBU and its military counterpart, the GUR, have carried out dozens of assassinations against Russian officials in occupied territories, alleged Ukrainian collaborators, military officers behind the front lines and prominent war supporters deep inside Russia. Those killed include a former Russian submarine commander jogging in a park in the southern Russian city of Krasnodar and a militant blogger at a cafe in St. Petersburg, according to Ukrainian and Western officials.

Ukraine's affinity for lethal operations has complicated its collaboration with the CIA, raising concerns about agency complicity and creating unease among some officials in Kyiv and Washington.
It's really not very complicated at all. The CIA trained Ukraine's assassination force and now they're going around assassinating non-combatants inside of Russia with US weapons and military aid.

The Times reported on the same assassination squads -- dubbed "kill teams" -- back in August and said they're using US-supplied Black Hawk helicopters to carry out their cross-border assassinations.

At the same time, the US is supplying Ukraine with advanced arms and long-range weaponry which they're using to conduct random terror attacks against civilians inside of Russia.

Ukraine's counteroffensive was a total failure because they could not break through the heavily-mined and highly fortified battlefield in eastern Ukraine and so they've focused almost entirely on terrorism and assassinations just to maximize the pain felt by Russia.

The Post continued:

"We are seeing the birth of a set of intelligence services that are like Mossad in the 1970s," said a former senior CIA official, referring to the Israeli spy service long accused of carrying out assassinations in other countries. Ukraine's proficiency at such operations "has risks for Russia," the official said, "but it carries broader risks as well."

"If Ukraine's intelligence operations become even bolder -- targeting Russians in third countries, for example -- you could imagine how that might cause rifts with partners and come into serious tension with Ukraine's broader strategic goals," the official said. Among those goals is membership in NATO and the European Union.
Ukraine denied having anything to do with the assassination of Darya Dugina when it happened and compared it to terrorism but now they're bragging about it, the Post noted:

At the time, Ukraine vigorously denounced involvement in the attack. "Ukraine has absolutely nothing to do with this, because we are not a criminal state like Russia, or a terrorist one at that," said Mykhailo Podolyak, an adviser to Zelensky.

Officials acknowledged in recent interviews in Kyiv, however, that those denials were false. They confirmed that the SBU planned and executed the operation, and said that while Dugin may have been the principal target, his daughter -- also a vocal supporter of the invasion -- was no innocent victim.

"She is the daughter of the father of Russian propaganda," a security official said. The car bombing and other operations inside Russia are "about narrative," showing enemies of Ukraine that "punishment is imminent even for those who think they are untouchable."
Ukraine assassinated the daughter of a minor media personality for "narrative" and we paid for it.

Congress is gearing up to give another $105 billion in military and economic aid to Ukraine and Israel as soon as possible.

Follow InformationLiberation on Twitter, Facebook, Gab, Minds and Telegram.