Al Jazeera 'Finds No Grounds For Israeli Army's Claim Gaza Baptist Hospital Strike Was a Failed Rocket Launch'
Chris Menahan
InformationLiberation
Oct. 19, 2023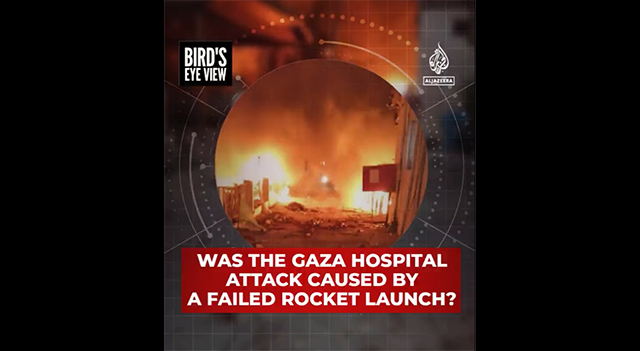 Al Jazeera, whose footage was cited by Israel to claim a failed rocket launch by Gaza fighters caused the al-Ahli Baptist hospital explosion, did their own investigation into Israel's claims and found they were without merit.


Key points:

- They discovered Israel conducted four separate airstrikes in the six minutes before the al-Ahli Baptist hospital's courtyard was struck.
- Cross-referencing their own footage with footage from a surveillance camera south of Tel Aviv, they determined the rockets launched from Gaza were shot down by Israel's Iron Dome, with the last rocket intercepted "at exactly 18:59:50" and "completely destroyed and broken apart."
- That was the last rocket fired from Gaza and it was intercepted before the hospital explosion
- "Five seconds after that interception, an explosion in Gaza was seen, followed two seconds later by a much larger explosion" and that second explosion "was the strike that hit al-Ahli Arab Hospital."
"Al Jazeera digital investigation found no grounds to the Israeli army's claim that the strike on the al-Ahli Arab hospital in Gaza was caused by a failed rocket launch," AJ English reported.

In related news, the UK's Channel 4 investigated the intercepted "Hamas" phone call Israel released and reported it was most likely a fake because "the language, accent, syntax and tone" were all off. They also said Israel's claim that the strike was caused by a misfired missile from a cemetery very close to the hospital can't be true because the trajectories don't match the video. They added that Israel "confusingly" also claimed in the same presentation that "the missile was fired from a location down in the southwest -- it can't be both" (i.e. one missile can't be fired from two different locations).


The phone call is incredibly easy to fake and there's no reason to believe Israel can intercept Hamas' communications because they were completely blindsided by their Oct 7 attack.

Follow InformationLiberation on Twitter, Facebook, Gab, Minds and Telegram.