'At Least 6 People' Killed, Dozens Wounded in Israeli Airstrike on UN School in Gaza
Chris Menahan
InformationLiberation
Oct. 18, 2023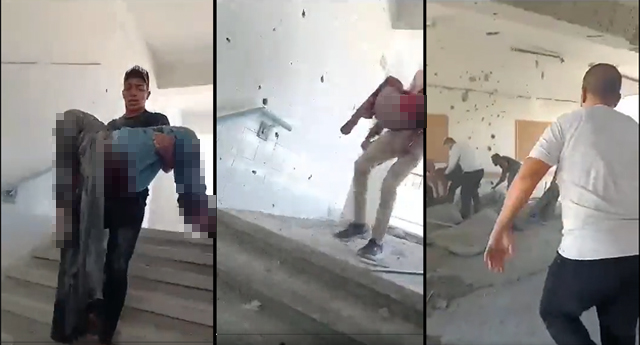 An Israeli airstrike on a UN school at the Al-Maghazi refugee camp in central Gaza killed "at least 6 people" and injured dozens on Tuesday.

WARNING: GRAPHIC VIDEO:


Video shared on social media shows bloodied children and adults -- who appear to be dead -- being carried out of the school, which was supposed to be a safe zone.

From Reuters, "At least 6 people killed in Israeli air strike on UNRWA school in Gaza":

RAMALLAH, Oct 17 (Reuters) - At least six people have been killed in an Israeli air strike that hit a school run by the United Nations' Palestinian refugee agency (UNRWA) in Gaza's Al-Maghazi refugee camp, UNRWA posted on X social media platform.

The UNRWA released the following statement from Philippe Lazzarini, UNRWA Commissioner-General on their website:

"At least six people were killed this afternoon when an UNRWA school was hit in al-Maghazi refugee camp, in Gaza's middle area.

"Dozens were injured (including UNRWA staff) and severe structural damage was caused to the school.

"The numbers are likely to be higher.

"This is outrageous, and it again shows a flagrant disregard for the lives of civilians.

No place is safe in Gaza anymore, not even UNRWA facilities.

"The school was hit during Israeli forces airstrikes and bombardment on the Gaza Strip.

"At least 4,000 people have taken refuge in this UNRWA school turned shelter. They had and still have nowhere else to go.

"Since the war began on 7 October, UNRWA provides the coordinates of its facilities to relevant parties on a daily basis."
Israel has yet to blame the strike on Hamas/PIJ.

Follow InformationLiberation on Twitter, Facebook, Gab, Minds and Telegram.