Biden in Israel Suggests Gaza Hospital Bombing 'Done By The Other Team' But Adds 'There's A Lot Of People Out There Not Sure'
Chris Menahan
InformationLiberation
Oct. 18, 2023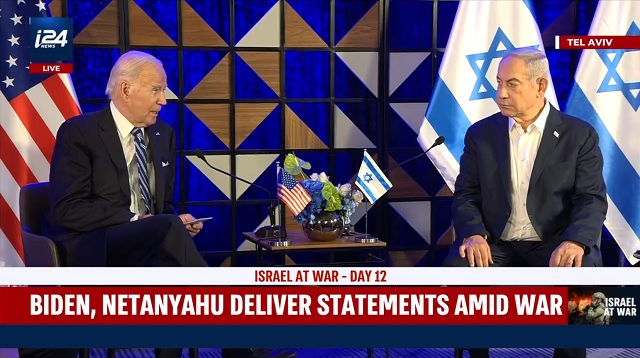 President Joe Biden on Wednesday addressed the Gaza Baptist hospital bombing, telling Prime Minister Benjamin Netanyahu: "Based on what I've seen, it appears as though it was done by the other team, not you, but there's a lot of people out there not sure, so, we've got, we've got to overcome a lot of things."



Biden last week claimed he saw "confirmed pictures of terrorists beheading children" -- a reference to the 40 beheaded babies hoax -- but the White House had to come out and clarify that "US officials and the president have not seen pictures or confirmed such reports independently" and he "based his comments about the alleged atrocities on the claims from Netanyahu's spokesman and media reports from Israel."


Biden made his comments about the Gaza hospital bombing at 4:47AM EST so we'll have to wait and see if the White House jumps in to correct him. His rambling was largely incoherent and he appears to have taken both sides on the issue. Odds are his handlers will present the official stance of the US government on this bombing in the coming hours.

Follow InformationLiberation on Twitter, Facebook, Gab, Minds and Telegram.