Israel 'Bombs Gaza's Baptist Hospital,' Authorities Say '300-500 Dead' [UPDATE: IDF Shill Took Credit For Bombing in Now-Deleted Tweet]
Chris Menahan
InformationLiberation
Oct. 17, 2023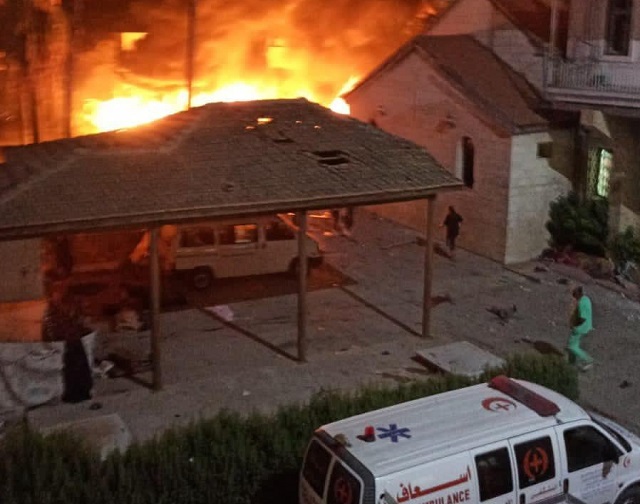 How many 9/11s is this?



WARNING: GRAPHIC VIDEO:


WARNING: GRAPHIC VIDEO:


WARNING: GRAPHIC VIDEO:


WARNING: GRAPHIC VIDEO:


From Reuters, "Hundreds dead in Gaza hospital bombing, local authorities say":

An Israeli air strike killed hundreds of people at a Gaza City hospital on Tuesday, health authorities in the Hamas-run enclave said, and the United Nation said an Israeli strike also hit one of its schools being used as a shelter.

A Gaza civil defence chief said on Al-Jazeera television that more than 300 people were killed at Al-Ahli al-Arabi Hospital. A Gaza Health Ministry official said at least 500 people were killed and injured. Both departments are under the Hamas-run government.
Civil defence spokesman Mahmoud Bassal described the bombing as a "massacre," the Middle East Eye reports.

"What is happening is collective punishment," Bassal said. "When will the world stand up for Gaza? This is the highest level of aggression from Israel. The floor of the hospital is covered in dead bodies and we don't have anyone to pick them up."

This is where our tax money is going!


The US has two aircraft carriers off the coast of Israel and is sending 4,000 more troops to ensure such war crimes are allowed to continue unabated!


UPDATE: The IDF's Hananya Naftali hailed the strike in a now-deleted tweet, claiming "Israeli Air Force struck a Hamas terrorist base inside a hospital in Gaza."

"A multiple number of terrorists are dead," Naftali said. "It's heartbreaking that Hamas is launching rockets from hospitals, Mosques, schools, and using civilians as human shields. #Hamas_Is_ISIS."


"Why did u delete your initial tweet?" X user Censored Men responded. "You've already confirmed that Netanyahu has put you on an official Israeli task force to control the narrative online, this means you get information from Israeli intelligence BEFORE the media does."

"This means that your initial tweet most likely got checked by Israeli intelligence officials before you were allowed to post it. But then you deleted it," Censored Men added. "Maybe they told you to retract the initial script of Hamas using the hospital as a human shield, and now it's a misfired Hamas rocket that hit the hospital. Very suspicious."

UPDATE II:





Follow InformationLiberation on Twitter, Facebook, Gab, Minds and Telegram.